Stroom Den Haag neemt elk jaar de Haagsche initiatieven op sleeptouw om het netwerk wat te verbreden en om inzicht te krijgen in hoe het er aan toe gaat in een andere kunstcultuur.
Istanbul moest toch wel te bieden hebben op dat gebied en bovendien was er ook net de biënnale.
Dus gingen we kijken hoe Istanbul in elkaar steekt.
Bovenstaand plaatje is geshopped, want vanuit geen enkele hoek was er overzicht op heel Istanbul.
En dat is dan wel weer toepasselijk, want dat geldt ook wel voor de kunstwereld aldaar.
Maar stukje bij beetje komen we er wel. Eerder al het report over die Biënnale en over de Elgiz collection, vandaag een report met een Engels tintje.
De Istanbul muurschildering is van Michael Graig Martin en komt uit Galerie Galerist
De Nouvelle Image-achtige galerie hangt verder helemaal vol met bonte tekstschilderijen van de peetvader van de Young Brittish Artists
Mischa Poppe weet wanneer hij in beeld moet lopen.
Galerist zit in een Berlijnachtige situatie, een flink herenhuis met op elke etage een galerie. Helemaal onderaan Galerie Ura met werk van Dick Evans.
Een jonge Engelse galerieassistent weet te vertellen dat de galerie alleen Britse kunstenaars brengt gericht op de Engelse kunstscène en dat de kunstscène in Istanbul niet interessant is.  Zijn Haagse collegae blijven desondanks toch nog maar even hangen voor het geval dat hij er naast zit..
en trekken door naar Platform Garantie, iets wat een beetje lijkt op een Turks Centrum voor Beeldende Kunsten met een flinke kunstbibliotheek en een aantal Artist in Recidency studios.
Platform Garanti wordt gesponsord door een bank en dat lijkt de methode te zijn in Istanbul. De banken krijgen hun sponsoring terug van de belastingen en zo is er in Turkije meer staatssteun dan dat je op het eerste gezicht zou denken.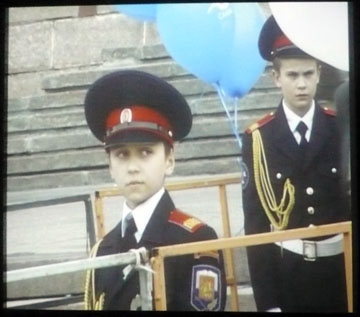 Ook bij museale galerie Akbank Sanat komen de centen bij een bank vandaan.
En dus wordt Olga ShernySheva mooi gepresenteerd.
Zij filmt een rijtje jongetjes die een beetje in de gaten krijgen wat meisjes zijn..
..en tijdens een officiële ceremonie getreiterd worden door wat oostblok cheerleaders.
De cheerleaders zelf missen nog een beetje het enthousiasme van hun Amerikaanse collegae.
Het is allemaal wat schrijnend, maar toch best aantrekkelijk.
Heel verrassend, op de 5e etage van een flat net buiten het Soho van Istabul poppen opeens de Chapman Brothers op in gezelschap van wat andere Engelsen.
Dat poppen is blijkbaar expres, het gaat hier om een 'pop up space' tijdens de Istanbul Biënnale genaamd 'Paradise Row' ..
.. met verder ook "work by a new generation of artists who have kept London a vital centre of art production; Diann Bauer, Shezad Dawood, Mounir Fatmi, Edward Fornieles, Margarita Glutzberg, Idris Khan, Nathaniel Rackowe and Douglas White".
De Turkse kunstwereld heeft vanuit Engelse ogen blijkbaar toch een flinke Engelse injectie nodig.
of misschien zien ze stiekem toch meer mogelijkheden in Istanbul dan in het Britse moederland.
Eerder in deze serie:
http://trendbeheer.com/2009/09/19/istanbul-biennial/
http://trendbeheer.com/2009/09/22/istanbul-deel-1-whos-afraid-of-the-elgiz-collection/