Niels Post is beeldend kunstenaar en actief als mede-oprichter van Trendbeheer.com. Hij is opgeleid aan de AKI in Enschede en het San Francisco Art Institute. Zijn werk is wereldwijd te zien geweest op videofestivals, tentoonstellingen en als zelfinitiatief in de openbare ruimte. Spam, computer gegenereerde tekst die niemand wil maar die overal opduikt, vormt de laatste jaren het basismateriaal van zijn beroepspraktijk. Post gebruikt het voor interventies op leegstaande winkelramen, wandsculpturen en ruimtevullende installaties.
Related Articles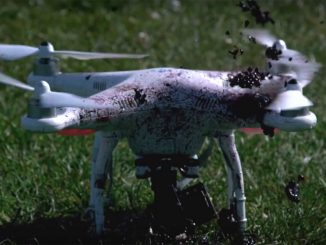 Dingen doen met dingen waar die dingen niet voor zijn bedoeld. Zoals bijvoorbeeld groenten hakken met de quadcopter die uw zoontje van Sint heeft gekregen. Eieren zijn lovely. Vermits hispeed gefilmd en slowmotion weerspeeld. youtube.com/watch?v=B_Kym0e5J7M&feature=youtu.be
Je verwacht kunst maar ik vrees huisvlijt. Man met hobby voorziet bijna 1300 ultrakorte filmpjes van cheerleaders gefilmd op TV van achtergrondmuzak. 1268 fragmenten van 5 tot 40 seconden. Zo definieren wij het begrip vervreemdend. [Meer…]
Escape 1978. Break-in and escape from factory during evening hours, NYC. Annmessner.net
2 Comments
Haha! Weer zo'n pareltje!
Maakt niet uit hoe erg de vorm van een penis doordrukt in die latex pakjes bij Hole in the Wall; de Japanners zijn oneindig raarder.

geweldig N ! een pracht, dat is het .