Inrichtingsproblematiek
Roodkapje huist tot maart 2011 op waanzinnig fijne AAA-lokatie: aan de Meent, bij het oude postkantoor om de hoek.
Tot 6 juni met een triple: Hester Scheurwater, Benjamin Crotty and Gabriel Abrantes en Machinist (Zeno van den Broek)
(De site is van Pulpe dus voor leesbare actuele informatie moet je op Roodkapjes Facebook zijn.)
Opbouw versus tentoon: Hester Scheurwater kiest uiteindelijk voor een opgekuiste versie, met netjes gehangen fotowerk, waar de exploded view met werk her en der op de grond en tegen de muur misschien fraai passend is.
Twee versies: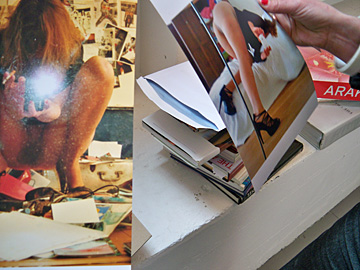 Bovenstaand status 22 april, welbeschouwd een schitterende tyfuszooi. Onderstaand de uiteindelijke tentoon. Zoek de verschillen:
In de kelder een selectie van Hester Scheurwaters films.
In de ruimte ernaast een installatie van Benjamin Crotty and Gabriel Abrantes – die we nog kennen van little people in Zaal 5.
(Het werk van Machinist – Zeno van den Broek – is niet te fotograferen.)
Nog te zien tot 6 juni: Hester Scheurwater, Benjamin Crotty and Gabriel Abrantes en Machinist (Zeno van den Broek)