David Friedman interviewt Ralph Baer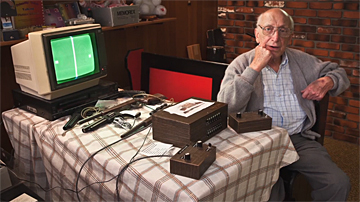 Portret van Ralph Bear. De man die, onder andere, de videogame console uitvond.
Davidfriedmanphoto.com/…-ralph-baer.html
(via Overdwars)
Niels Post is beeldend kunstenaar en actief als mede-oprichter van Trendbeheer.com. Hij is opgeleid aan de AKI in Enschede en het San Francisco Art Institute. Zijn werk is wereldwijd te zien geweest op videofestivals, tentoonstellingen en als zelfinitiatief in de openbare ruimte. Spam, computer gegenereerde tekst die niemand wil maar die overal opduikt, vormt de laatste jaren het basismateriaal van zijn beroepspraktijk. Post gebruikt het voor interventies op leegstaande winkelramen, wandsculpturen en ruimtevullende installaties.
Related Articles
"This is the most extensive exhibition of Stella's oeuvre to date, and includes works from the 1950s to the 2010s. We'll follow the aesthetic trajectory of the artist's various phases from his ground breaking "black [Meer…]
Waar vliegen de slipjes? Daar vliegen de slipjes!
Be the first to comment