Willum Geerts @ De Aanschouw
Nog de hele week aan danwel uit in de Witte de Withstraat in Rotterdam, Willum Geerts.
Niels Post is beeldend kunstenaar en actief als mede-oprichter van Trendbeheer.com. Hij is opgeleid aan de AKI in Enschede en het San Francisco Art Institute. Zijn werk is wereldwijd te zien geweest op videofestivals, tentoonstellingen en als zelfinitiatief in de openbare ruimte. Spam, computer gegenereerde tekst die niemand wil maar die overal opduikt, vormt de laatste jaren het basismateriaal van zijn beroepspraktijk. Post gebruikt het voor interventies op leegstaande winkelramen, wandsculpturen en ruimtevullende installaties.
Related Articles
"All letters in the bible were erased with white correction fluid except for the S, O, R, R, and Y in that order. (work in progress)" willumgeerts.com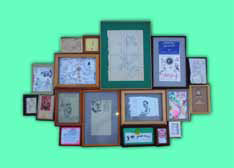 Toplot/hoogtepunt: dit prachtige werkje van René Duinkerken, netto winkelwaarde 350 euro. Die wil ik wel hebben. De traditionele veiling vóór de Aanschouw – letterlijk – vindt plaats zondagmiddag 16 september 15:30. Een greep van zes [Meer…]
Juweeltje deze week bij De Aanschouw en conceptueel helemaal correct. Toon Berghahn hergebruikt de vorige laag van René Duinkerken en maakt een schilderij dat naadloos aansluit op het eigen oeuvre. T/m vrijdag 15 februari 20:30. [Meer…]
1 Comment
"aan, danwel uit" maar niet te vergeten alles wat daar tussenzit!