Zoro Feigl in de fabriekshal Koninklijke Raymakers
"'Kanaalwerken' belicht thema's als arbeids- en productieprocessen, het alledaagse leven, oude en nieuwe industrie, religie en vrijetijdsbesteding."
Kanaalwerken biedt naast veel speciaal gemaakt werk ondermeer nieuw topwerk van Zoro Feigl en een kapelinstallatie van Niels Broszat. En doet verlangen naar Vlisco, meer Vlisco!
gemeentemuseumhelmond.nl/ontdek/2013/kanaalwerken
Het deel stukjes Helmond in de Boscotondohal was afgelopen zondag gevuld met louter smullende bezoekers. De historische presentaties worden hogelijk gewaardeerd en voorzien in behoefte.
Daarnaast nemen "24 beeldend kunstenaars […] je mee op reis langs hun reflecties op de geschiedenis van industriestad Helmond."
Een greep:
Ni Haifeng, Voice of the proletarian.
Tjebbe Beekman
Dirk en Erik van Lieshout.
Dirk doet ouderlijk huis in Deurne, Erik onderstel en tekenwerk.
Yinko Shonibare
Theo van Keulen, Zuid-Willemsvaart
Pilvi Takala incluis hotline.
Persoonlijk hoogtepunt: deze drie presidenten voor de markt voor Vlisco, wereldkampioen Afrikaanse stoffen produceren, gevestigd in Helmond. Ontworpen door Jan Mollemans en Dries van de Ven. Fascinerend – daar zit een hele tentoon in.
Berend Strik
Misja van Daal
Olaf Mooij
Voor de deur van lokatie twee, een deelverdiep van de Koninklijke Textielfabrieken Raymakers, drijft op een treurig ponton Mooij's Braincar. Die hoort daar niet.
Niels Broszat bouwt zich een hele kapel. Op eigen ongebruikelijke manier met enthousiast materiaalgebruik: plakband, zilverpapier, touw en vodden. Gedetailleerd, vol vuur.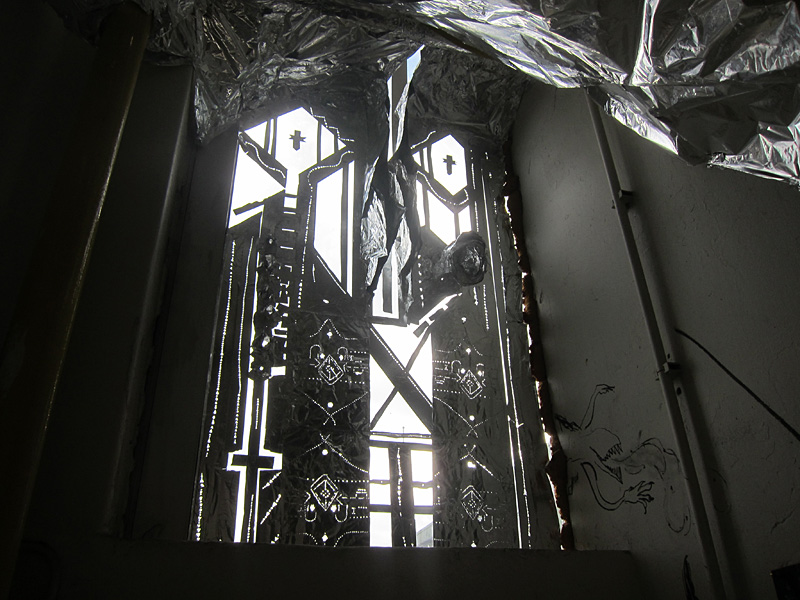 "Ziet hier het gegezelde Heilich schrift gekastyd ende verstikt worden zonder genade van den doot"
Waar Zoro Feigl's A long and winding road to nowhere in particular haast de rust zelve is, is dit werk geweldadig, wild, ongetemd. Razend draaiend, lopende banden on acid.
Amusant, overdonderend, in your face en niet van alle abstractie vrij. Vooral hier op deze lokatie: samengebalde fabriekswoede. Een eindeloos productieproces an sich, op de rand van een nervous breakdown. Hypnotiserend.
PLAY VERY LOUD.
Nog te zien tot 2 februari 2014