Een maand of wat geleden werd me gevraagd of ik de performance Time, Body, Viewer van The Holls zou willen reviewen. Een week of wat voordat die daadwerkelijk plaats zou vinden.
Wat ik plaats op trendbeheer is eerder verwijzend en altijd ondersteund door veel beeld. Maar het leek me een fijn experiment; dan maar twee prenten van Facebook getrokken en met de grote duim een geslaagde performance geconfabuleerd. Helaas kon ik de uiteindelijke 'opvoering' niet bijwonen.
Ik heb geen idee hoe en of mijn schrijven de performance heeft geraakt, beinvloed of anderszins (on)mogelijk gemaakt. Spelplezier, inzet, beeldend vermogen: zou het wat zijn geweest?
Mijn allinea's overweging vooraf:
http://trendbeheer.com/2013/11/22/the-holls-time-body-viewer-kadmium-delft
Esther Didden op JT deed hetzelfde:
jegensentevens.nl/2013/11/the-holls-collective-time-body-viewer
Diametraal tegengesteld haast.
Jammer genoeg (wellicht) is het in zekere zin bij een gedachtenexperiment gebleven: The Holls performeerden in donkere ruimte. Lees ik uit bijgaand (beeld)verslag van The Holls: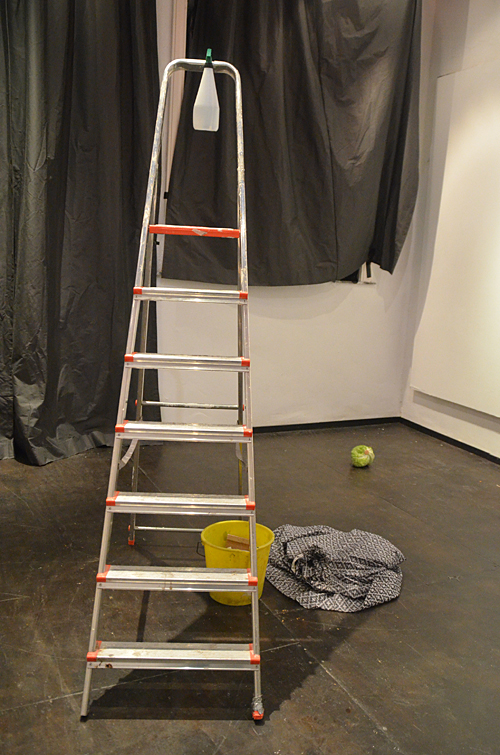 "We hebben geprobeerd om heel letterlijk om te zetten hoe het publiek, de recensenten en de geluidsman vooraf de performance beschreven .Aan de hand van het nabeeld (gastenboek en geluidsfragment van een nog niet bestaande performance) en de recensies vooraf zijn we tot eindelijk tot een performance in het donker gekomen. Je krijgt dus backstage foto's van de ruimte waarin de performance plaats vond in plaats van de performance zelf omdat we de performance dus onmogelijk konden vastleggen. (Let op: er zitten ook foto's van het nabeeld bij!)

We hebben de expositie bij Kadmium nogal als een experiment voor onszelf beschouwd waarin we met het element tijd en de rolverdeling van maker en toeschouwer m.b.t. performances hebben gespeeld. Wij willen graag een soort evaluatieverslag over het hele project schrijven om te kijken wat nou eigenlijk onze conclusie hiervan is. Aan de ene kant om het project af te sluiten maar ook om het project wat doorzichtiger te maken voor de toeschouwer."