Gimme Shelter, maar dan letterlijk. Wat doet een zuurstokroze JSF van Stefan Gross, eenmaal uitgevlogen? Die vliegt naar huis. Terug de bosjes in van Kunst & Complex.
Ik was bij alle Gimme Shelter, alleen kunstfort Asperen haalde de kolommen niet. Last van drukte, het rolletje was kwijt, ik was enthousiaster over de andere twee, Nieuwersluis en Vijfhuizen. Een combinatie van die drie factoren.
Gimme Shelter is op, over. Louter complimenten voor de enorme onderneming, het fijn gecurateerde geheel.
Ik heb het niet zo op inhoud en thematiek, maar juist hier op deze drie gekke forten was de driewerf op militaire fictie ingezette tentoonstellingsmodulus meer dan op zijn plaats.
En geslaagd.
Incluis wat misslagen overwegend vooral fijn om te zien en mee te maken en een meerwaarde voor de plekken.
Veel pers, relatief weinig bezoekers. 10.000 daar rept het afsluitende persbericht van. Dat is niet erg veel, zes maanden, drie forten bezien. Dat zijn er 27 per fort per dag. En dat is dan incluis de reguliere oorlogszoekers, bezoekers niet voor de kunst maar ondanks.
Bij Nieuwersluis spotte ik er een dozijn. In Gaastra. Die tussen de kunst door gluurden naar bakstenen verzet.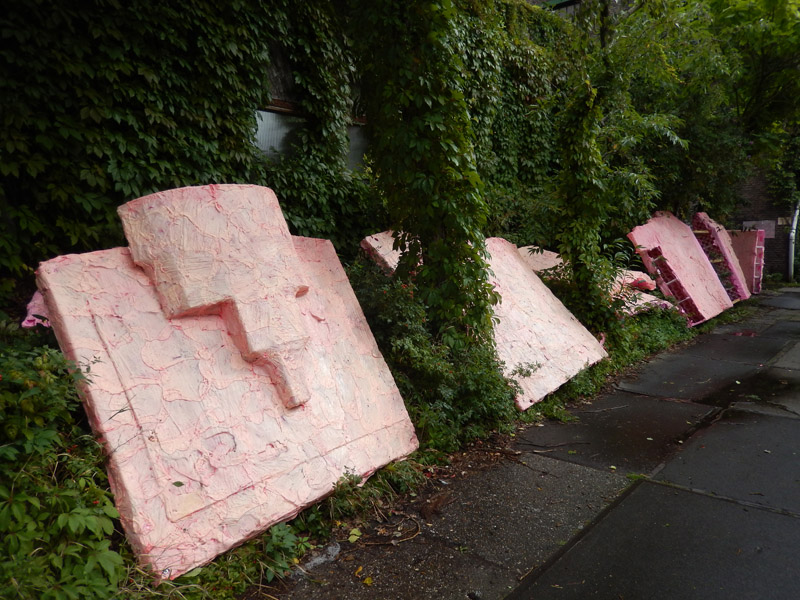 Who cares (de financiers?) het was een buitengemeen project, to be continued, zo mogen we hopen.
Uit het verloren gewaande fotorolletje: merchandise van Gross bij kunstfort Asperen. Een krek model voor 230 euro en roze JSF koelkastmagneten voor 35 euro.
Mooie doorkijkjes Fort Asperen.
En die vleugellamme.
Eerdere berichten:
trendbeheer.com/2015/07/29/gimme-shelter-nieuwersluis
trendbeheer.com/2015/07/23/gimme-shelter-fort-vijfhuizen
Was u er niet dan heeft u het gemist.