Deel vijf in een uitwisselingscyclus tussen Trendbeheer en Version Fest, Select Media Festival, Lumpen, Proximity Magazine en de Co-Prosperity Sphere uit Chicago.
Avondtentoonstelling en presentatie Rotterdam Special Proximity Magazine in de SingerSweatshop, Rotterdam.
Muziek DJ Gross, catering Petra van Noort.
Samengesteld door Ed & Rachael Marszewski (Chicago).
Met werk van: Emily Van Hoff, Dayton Castleman, Abby Christensen, Stephen Eichhorn, Aron Gent, Gunsho, Scott Fortino, Joseph Rynkiewicz, Anna Shteynshleyger, Tom Torluemke, The Yes Men.
Zie ook: Trendbeheer.com/tag/trendbeheer-meets-proximity-5
De cameravrouwen van KetelTV maken zich op voor een serie diepte-interviews voor in een uitputtende documentaire. Eerdaags op een televisiekanaal bij u in de buurt en later ook op het bekende adres op internet na te zien.
Warm en gezellig Rotterdam.
Verse Proximity in de winkel.
Unieke editie NYT van The Yes Men. Binnen een uur uitverkocht. (en.wikipedia.org/wiki/The_Yes_Men)
Zelf gekleide kunstboeken van Abby Christensen.
Tekstuitsnede Emily Van Hoff
Pièce de résistance prachtpublicatie Aron Gent. Oplage 1(!) exemplaar.
Fotowerk Scott Fortino
Beschilderde postplankjes Dayton Castleman.
Russische portretten Anna Shteynshleyger.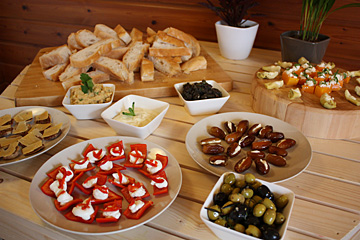 Pleasurefood Petra van Noort
Jan de Bruin interviewt Rachel Marszewski.
Niels Post vertelt.
Edmar Marszewski in gesprek met Esmé Valk.
Huisfotograaf met enorm grote fototoeter SingerSweatShop geflitst. Tegenfoto's eerdaags op facebook en Flickr SingerSweatShop.
Eelco van der Lingen schaft zich een Yes Men aan.
Yorit Kluitman koopt de laatste, uitverkocht!
Peter Fengler gaat voor groot, Aron Gent in een oplage van één.
Stefan Gross met het mooiste mobiele soundsystem van Rotterdam. Baschz en Jeroen Bosch kijken hun ogen uit.
Studio Spass op de foto met DJ Gross.
Twee dagen later het laatste avondmaal en daarna weer in het vliegtuig. Chicago bedankt!