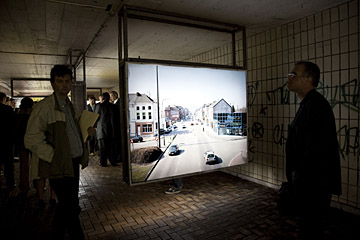 City Visions Europe, History and Future of the European City. Geopend afgelopen vrijdag 25 april en te zien tot 21 juni elke dag van 9 tot 19u Locatie station Mechelen: Tunnel onder het Koning Albertplein (Koning Albertplein z/n, Mechelen)
artsflanders.be/newsitem.php?ID=206
(Beeld Dieuwertje Komen.)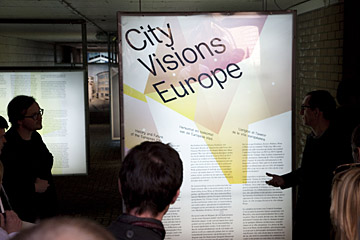 Martino Tattara (wetenschappelijk co-ordinator CVE / Berlage Instituut) ligt toe.
Katrien Vandermarliere, directrice van het Vlaams Architectuur Instituut.
Burgemeester van Kocise (Slowakije) met tolk, een van de steden die centraal staat in het project.
Fabio Vanin (mede inhoudelijk verantwoordelijk) legt uit. Naast hem, Bart Somers burgemeester van Mechelen en Joachim Declerck van het Berlage Instituut.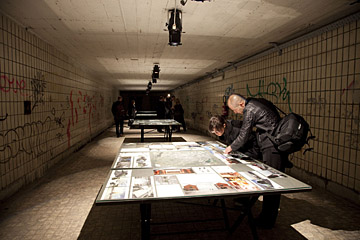 "As a last and complementary element, the Dutch photographer Dieuwertje Komen, engaged in the project to photograph each of the subject-cities of City Visions Europe, will present the first two series of photographs, portraying Mechelen and Mons."
cityvisionseurope.eu/en/articles/events/exhibitions
De foto's in de tentoonstelling zijn van Dieuwertje Komen.