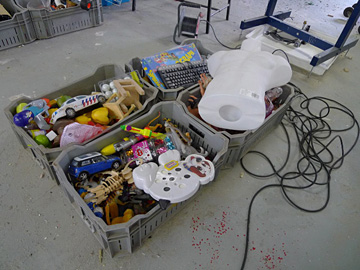 8 Comments
Bizarre productie Gijs, gaaf!

Ik ben zo benieuwd waar je uit komt. Je hebt veel gedaan sinds ik bij jou in het atelier geweest ben. Ik zie overal nieuwe figuurtjes. Je hebt het allemaal opvallend goed geordend.
Er straalt ondanks de hoeveelheid rust uit. Ik hoop, dat je in 2010 geinspireerd blijft en met veel plezier verder gaat met je ontwikkeling. Veel succes. Gerda

Mooi atelier waar zit je?

Hoi Gijs. Ik was verrast! en herkende je aanvankelijk niet,tot dat ik de EMKO zag staan en nog wat andere herkenbare spullen zoals spuitkast en kunstsof materialen enz. Nog enkele malen de vormen bekeken van de objecten en stel me voor hoe het zal zijn, als ze b.v 20 keer groter zouden zijn of 20 op een rij.Het is wel wat! ook de kleuren zijn om te zoenen. Dus; werk aan de winkel.

30 -1 22uur
hoi gijs,
wat een ruimte
al bijna weer vol
op aan raden van ammy even je opgezocht en gevonden
je bent hard aan het werk geweest, ik hoop dat het een goed gevoel geeft en er energie en inspiratie oplevert
interessant en verrasend wat er te zien is een vriendelijke groet

hi Gijs
Wat leuk om je op deze site te vinden.
En geweldig, die ontwikkelingen in je werk.
Succes met het vervolg
Guusje

Het kaf gescheiden van het koren . . . fraai

ha gijs

fijne plek zeg! pas op of ik kom snel langs daar!