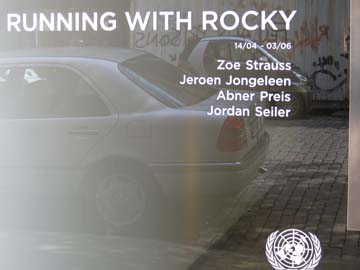 Uitleg
Abner Preis toont zijn America-tour SuperHeroes verzameling
Zoe Strauss videoprojectie van haar 10 years drama-project: leven op en over de zelfrand.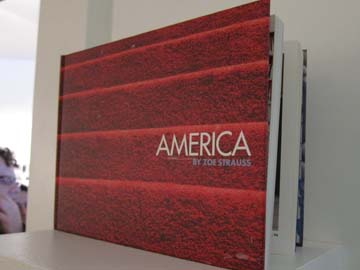 Video van Jordan Seiler: steelt een reclamebord…
…en geeft dees een tweede leven in een wondermooie collage knipperdisplay in de galerie.
Historisch materiaal van the Art of Urban Warfare 2002-2004/2012
Heer Floris de Eerste bezoekt.
"als nieuw!"
NP doet onderwijl als toegift even een korte rondleiding door de wijk langs zijn eigen spam-sporen.
Harlan Levey Projects groet u!
Nog tot 3 Juni
Leon Lepagestraat 37, Brussel
Wed – Sun / 13:00 – 19:00 and on appointment
goede groet
uw gelegenheidscorrespondent
(Eerder geplaatst vrijdag 13 april, opbouwpics/teaser:)
"The world ain't all sunshine and rainbows. It is a very mean and nasty place. It will beat you to your knees and keep you there permanently if you let it. You, me or nobody is going to hit as hard as life. But it ain't about how hard you hit, it is about how hard you can get hit and keep moving forward, how much can you take and keep moving forward."
– Rocky Balboa
en zo is 't maar net!
Keihard wordt er gewerkt aan de morgen openende tentoonstelling Running with Rocky! bij Harlan LEvey Projects te Brussel…
…waar de camera's immer draaien alsof het een Parijs is…
…zelfs Spaceinvader zichzelf wederom poogt uit te vinden…
…juist daar wordt hard gewerkt door Philadelphiaanse interventionisten Zoe Strauss, Superheld Abner Preis, Jordan Seiler – wereldberoemd met de PublicAdCampaign – en 's Neerlands trots in bange dagen Jeroen Jongeleen zelve met een vliegende doorstart van zijn Art of Urban Warfare.
Ik zou maar vast een treinkaartje kopen als ik u was.
openstelling vanaf 13:00, met een sociaal zwaartepunt tussen 17:00 en 20:00.
goed groet en wie weet tot daar en dan
uw gelegenheidscorrespondent te B.