Perennial Conceits is een lastig te vertalen titel. Zelfs Google heeft het er moeilijk mee en vertaalt het als 'vaste plant verwaandheid'.  Babel Fish doet het gelukkig beter met 'eeuwigdurende zelfgenoegzaamheid'.
franktaal.nl/expositie/show/perrenial_conceits.html
Thomas I'Anson.
Maar het wordt nòg lastiger als je leest dat de gast-curator van deze expositie, Thomas I'Anson, de in de titel genoemde attitude juist wil vermijden. Hij wil simpele vormen en primaire kleuren presenteren waarachter een complexe realiteit schuilgaat. Hij wil beelden tonen die vragen stellen, 'Questions for the artist, for the audience, a form of meditation, an unanswerable question posed to the universe – what the fuck are you?'
Dominique Hurth
Dit grote (260 x 380 cm) vel papier, complex gevouwen in een hoek bevestigd, is een sterk voorbeeld van zo'n poging.
Dominique Hurth.
Maar de ernaast opgehangen aquarellen met krantenfragmenten van dezelfde kunstenaar lijken minder relevant.
Rumiko Hagiwara.
Soms wordt de beschouwer geconfronteerd met een strak, harmonisch lijnenspel.
Niek Hendrix.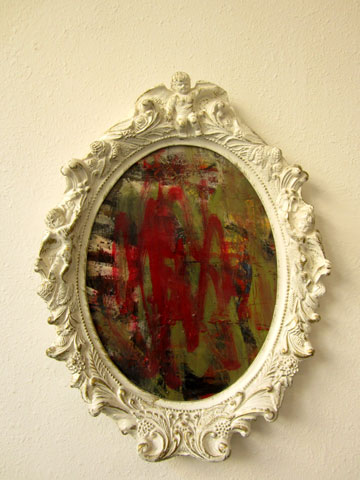 Jordy Koevoets.
Andere keren is het beeld grilliger en complex.
Willem Besselink.
Door beweging…
Matthew Hale/Alexander Voice.
dia's van verschillende locaties…
Bas van den Hurk.
assemblage…
Frauke Dannert.
collage…
Robin Waart.
of appropriatie.
Zie ook:
blogger.xs4all.nl/chmkoome/archive/2012/05/14/761282.aspx