Sprankelvers opgeleverd
(Vandaag geleerd: KAdE staat voor Kunsthal aan de Eems)
Directeur Amersfoort in C Gerard de Kleijn heet iedereen hoogst persoonlijk van harte welkom.
Er is altijd wel een fotograaf die het anders ziet
Met het van een Rietveld-kansel afwerpen van een mottige feestdoek opent burgemeester van Vliet-Kuiper officieel het pand.
Conservator Robbert Roos verklaart: "Niet weder een in zichzelf gekeerd ultraconservatief kunstbolwerk uit het doe mij maar na circuit als Witte de With, de Appel of BAK, noch een blockbustersupermarkt als de kunsthal in Rotterdam, maar een collectieloze kunsthal met aansprekende tentoonstellingen van (inter)nationale allure." (Woorden JB)
Of, zoals hij het wel zelf zegt: "een nationaal instituut met internationale uitstraling, als aanvulling op wat er in Nederland al gebeurt. Dat een combinatie laat zien van hedendaagse kunst, design, architectuur, beeldcultuur, maar ook als Kunstkammer functioneert. Experimenteel, maar niet highbrow." (Citaat uit artikel Rutger Pontzen in de Volkskrant: Een Pietje Bell-achtige kunsthal.)
Abdelkader Benali draagt voor uit speciale Wonderland publicatie.
Waar staan de hapjes? Daar staan de hapjes. (Foto Stefan Klee)
Drie verdiepingen hoge/grote muurschildering Paul Morrison
Interactieve handkar Tim Lewis. Het Evoluon kan wel inpakken.
Angelo Filomeno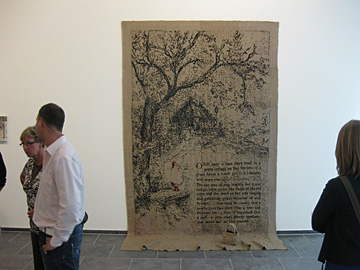 Hinke Schreuders groot formaat.
Absoluut hoogtepunt: een van de twee werken van Henry Darger. Deze werken zijn een reis naar Amersfoort waard.
Liz Craft
Inspectieronde Karen Sargsyan
Barbara Polderman
Een waanzinnig goed samengestelde dwarse tentoonstelling vol verrassende figuratie en uitmuntende detaillering in een pand met iets teveel kantoorallure door een wat magere net te lage bovenverdieping.
Op bovenstaande sfeerimpressie slechts een fractie van de getoonde kunstenaars/werken. Zo hangt er een schitterende serie tekeningen van Jake & Dinos Chapman en is er video plus bronmateriaal van Martha Colburn.
Wonderland, Through the Looking Glass, 2 mei tot 30 augustus 2009, KAdE Amersfoort
Noot:
Onfatsoenlijk publiekswerk van Patricia Piccinini. (Foto Stefan Klee)
Dit staat/hangt/ligt er ook. Wees gewaarschuwd. Niet mopperen dat uw dag bedorven is als u gaat en zulks u net zo min aanstaat als ondergetekende. Gewoon negeren.