Dominique Teufen @ Leo XIII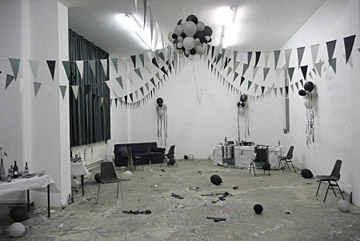 "denk […] in de kleuren van je hart…" (Foto Whatspace)
Feest in Tilburg!
Must see/click:
9 Comments
Cool!, doet mij denken aan een feestje gegeven 13 jaar geleden (ik weet het niet meer precies) in LUXUS Boekhorststraat Den Haag in de Spiegelzaal aldaar door Mat Vaassen (niet te onderschatten schrijver en fotograaf) met NL vlaggetjes, het woord 'KANKER' geschreven in het Rood Wit en Blauw en Peter Luining die anaal werd genomen door een trompet. Heeft daar iemand foto's van?

hoi Jeroen, dank voor het plaatsen!
zo'n mooie installatie, zo weinig bezoekers…
verdient een beter lot! via het net dan maar!
bas

dominique

i couldn't come, but you your installation looks really wunderful, i really love it, great to see how your work is increasing,

love ferri

Salut Dominique
Sieht lustig aus… habe letzhin Deine Seite besucht. Die geflickten Sachen gefallen mir sehr… wünsch Dir viel Erfolg
*Renée

I really see Dominique Teufen has made a lot of progression in her work. Looking around in this installation I could not find a point to criticize. Standing in the middle a strange feeling became over me. After a while I realized it's the first time in my life everything around me in grey scale in this very professional installation. From one to 10 I give this a 9.

hi domi
your installation is great, congratulations. one day I'll have to make a documentary on ur work & life, it's so rich! (well, some footage is already there).
love,
hans-jürg

It is highly enjoyable to have discovered this work as is shows a remarkable re-articulation of the term art-installation. In my opinion the work demonstrates a modestly personal, yet confident attitude as an observer of the everyday. Here, a curious experiential duality between manipulated object disposables and staged occurrence is manifested. Within the current issues debated in the art world, both as critical approach to individual works and a larger conceptual understanding, this work seems to bare an inalienably value. Look forward to future pursuits.

Een week geleden sliep ik een nacht in Tilburg en had ik de eer helemaal alleen te zijn met jou werk. Ik dacht meteen aan de vele katers en slagvelden van voorbije feestjes (prettig soort hilariteit tijdens het eieren bakken, een licht aanwezige geilheid) Maar toen ben ik alle details gaan bekijken en ben ik op die bank gaan zitten om alles te kunnen overzien en toen verdwenen alle primaire gedachten want ik zat immers midden in jou kunst. En die gedachte bracht een bepaalde warmte bij mij teweeg die ik alleen relateer aan een werk dat ziel heeft. Ik wilde er graag blijven.

Er hangen aliens aan de muur!