Kunst voor het oprapen
Van sollewitt
Tot in reclame gehulde Jadwiga Sawicka
De oude bierfabriek genereerde veel mindere reacties, maar volgens Berlijns ereburger Akim was de grote Poznan-Eliasson tentoonstelling aldaar daarentegen super-soep!
Zijn eigen soep als instant-performance ook niet voor de poes

@ startergallery van multitalent honza, hier bijgestaan door kuba1, Jakub Rożej
(kuba1 als tourguide)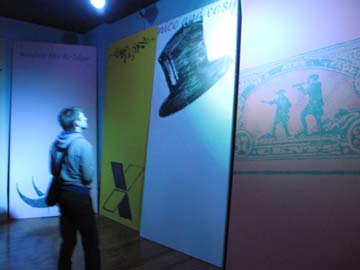 Met de afstudeersolo van Agnieszka Grodzinska, schilderijen in discolicht.
3 dagen eerder bezet door Woody Alien zelf, Poznans' muziek en ontwerp talenten van morgen.
Een andere must-visit plek: cafe miesna, kunstenaarspiratenhol met interne filmfestival organisatie en expos van fictieve artiesten op bovenste etage van de hand van Maciej Kurak.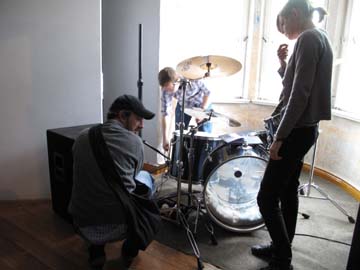 Of cafe kisielice – www.myspace.com/kisielice voor ontmoeting met het middensegment van de kunst.
En natuurlijk de kersverse stereo gallery van michal lesota(http://www.galeriastereo.pl)
met verse plaatjes van ondergetekende
Ook op z'n Pools: de tot zwembad omgeploegde synagoge (1939>)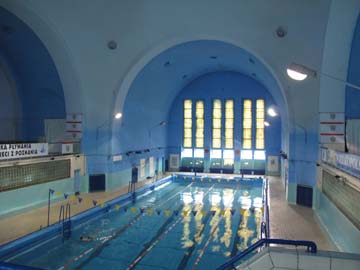 Voor lokaal zwemgenog 'met een knipoog', aldus de humor aldaar.
Verder uit vergelijkbare koker is de antiek en prullaria markt op het centrale plein met handeltjes die een interessante kijk in de Poolse handelsgeest geven. Voor een prikkie origineel spul van vroeger.
Maar ook arsenal ist da, de stadse toonzaal voor hedendaagse fotografette.
Anyway, verder zeker het vermelden waard, the amazing bittersweet Tomasz Mróz aka Tom Frost.
the amazing jakub (kuba2) czyszczon
starter.org.pl/artysta.php?name=czyszczon
Ik zeg het u, Poznan, onthoud die naam. met Mooi weer prima te doen!
Groeten uit regenachtig Polen van uw gelegenheidscorrespondent.