De tentoonstelling "Ken uw Klassiekers" @ Hamburger Bahnhof Berlin
Roept u maar!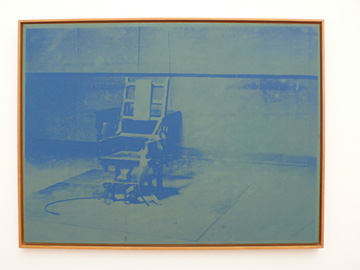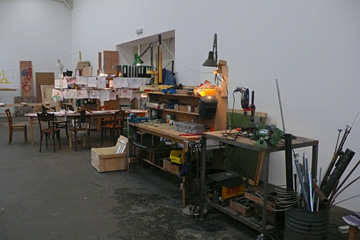 16 Comments
Tweede en derde foto van onder is Job.

Eerste foto is natuurlijk replica Marcel Duchamp, bicycle wheel. Die gekruisigde kikker is van Kippenberger als ik me goed herinner… van wie is dat ingesneden vlak / zwarte streep op wit doek ook al weer?

En die basketballen op sterk water zouden zo maar van die stoffige Hirst kunnen zijn. Ik mis alleen nog wat schedels of levende goudvissen.

hirst?
nee man
das natuurlijk Koons, zijn vader

Hoe houd je Koons en Hirst uit elkaar? Koons is leuk, Hirst niet. Ook wel: Koons heeft gevoel voor humor, Hirst niet.

ik zie een Nauman, Twombly, Judd, Weiner, Fontana, Matta Clark maar van wie o wie is die blauwe latexroller-stuiptrek?

Daniel Richter, Duane Hanson, Nan Goldin, Bruce Nauman, Isa Genzken, Wolfgang Tillmans, Dieter Roth en die onderste geen Jeff Koons maar Paul McCarthy (grote schoen)?

marcel duchamp, bruce nauman,andy warhol, jeff koons, andy warhol, nan goldin, andy warhol,kiefer, cy twombly, daniel richter, judd, gensken, duane hanson,lawrence weiner, judd, fontana, matta clark,dieter roth, isa genzsken, tillmans, koons.. of zoiets.

franz gertsch, john mccracken, marcel broodthaers, sol lewitt

Ben wel erg benieuwd naar die trap met planten en veel zooi.. zou toch geen Helmut Smits zijn? Kwa leuk komt het wel in de buurt…

zijn die houten dozen van richard artschwager?

Mag deze post bijgewerkt worden met aanklikbare links? Ik zou graag willen weten wat wat is. Leuke post!