Ronald Bal, Volate Existence II. Smeltend ijs.
"From KABK, Den Haag: Maarten Peerdeman, Rik Smits, Mirjana Vbraski, Florian van Roekel. From HKU, Utrecht Rogier Cloin, Yoeri Guepin, Jasper Griepink, Eline Wessels and Martien van den Hoek. CABK, Zwolle : Ronald Bal and Lydia Woort. From St.Joost, Breda we welcome Lydia Weijers,Thijs van Gasteren, Anne Geene and Marleine van der Werf. From St.Joost Den Bosch Dennis Amatdjais. Last but not least, Rietveld Academie, Amsterdam : Ruta Butkute, Robin Waart, Dawood Hilmandi, Kerstin Heyen and Kaweh Modiri."
www.ronmandos.nl/exhibition/show/75/best_of_graduates_2010(…)

Een selectie van een selectie.
Anne Geene, Perceel no. 235. Encyclopedie van een volkstuin. Een verslag van minutieus gedocumenteerde volkstuin #235. Leuk.
De bijbehorende dia's verwijzen mbv de rasters naar de vindplaats in de tuin.
Zou er ook nog eens verbeelding en humor aan te pas komen dan zou je bij het zien van dit werk van Geene spontaan roepen: 'George Perec, de beste schrijver sinds Focquenbroch!'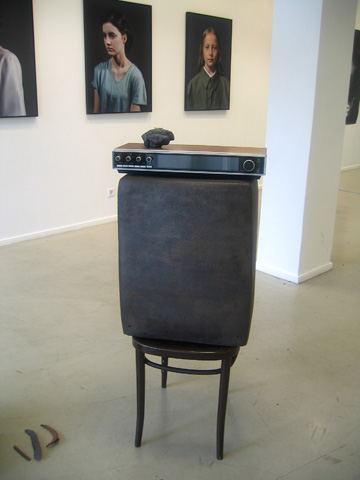 Heritage van Ruta Butkute met op de achtergrond foto's van Mirjana Vrbaski
Bijzonder gedetailleerde tekeningen van Rik Smits
Robin Waart, Thinking in Pictures. Stills, -tig maal 'What do you think?' in ondertitels.
Onbekend, video. De afgetrainde broer van Dries Roelvink laat het jochie soms stilvallen. Het tafereel wordt ook nog eens begluurd. Eng.
Onbekend. Video van een Adonis-type
Tot 28 augustus te zien bij Ron Mandos.