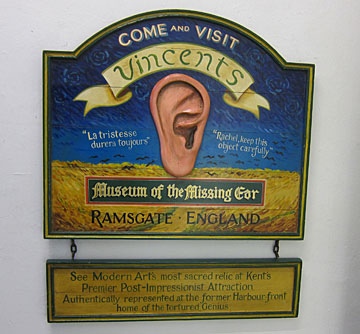 Niet tegen dovemansoren gezegd en weer eens wat anders dan een Museumplein vol afgesneden oren.
Eigenlijk overal in de stad – en in de kroeg, zoals de titel van de tentoon belooft – maar ook in Lokaal01 zelf.
Te zien tm 19 december.
lokaal01.org/actueel/index.php?cat=0
Ian Noble
Workshop (i.e. Alexander Cooper, Rose Gridneff)
"May I Have Your Attention" : BARK design; gipsen hoofden op palen: Leigh Clarke; buizen uit pilaren: Monica Biagioli
"No artist can make …": Bob and Roberta Smith; bank notes: Dan Holliday
Mark Hampson
Mark Harris
Dan Holliday
Overzicht (zwarte poster is van Mark Titchner)
Mark Hampson
In de zijbeuk werk van Timo van Grinsven (student St. Joost Den Bosch)
Te zien tm 19 december.