WANI is volgens de curatoren een 'Object Artistique Non Identifié' of zelfs een 'Oeuvre d' Art Non Identifiable' oftewel een werk dat dusdanig op zich zelf staat dat het niet meer (in kunsthistorische zin) geïdentificeerd kan worden.
fondation-entreprise-ricard.com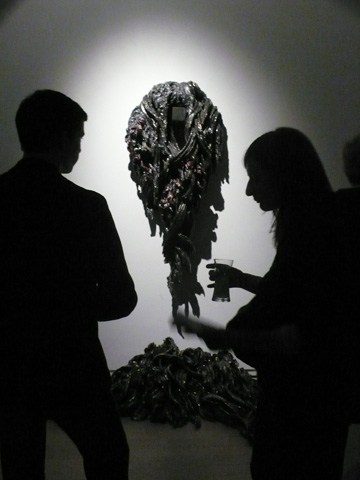 Hoe dan ook, de expositie levert een bizarre maar wel fascinerende combinatie aan werken, zoals hier Requiem of Heroism (wreath) van Anne Wenzel…
…naast een abstract zwart/wit projectie van Semiconductor…
…en dit 'Big Black Canvasless round Painting' van Florian & Michael Quistrebert.
Een uitvergrote bronzen wattenstaaf van Thomas Rentmeister…
…naast het werk 'Roots' van Vincent Kohler, houten wortels die op dieren lijken, maar echter van keramiek zijn…
…en werken van Florence Doléac en in de hoek Dorota Buczkowska.
De Kuratoren Paul Ardenne en Marie Maertens leggen het hele concept nog eens graag uit aan de TV ploeg van Arte.
fondation-entreprise-ricard.com/en/exhibitions/future/wani/pres/
De expositie is nog te zien t/m 21 mei. Iedere woensdag en zaterdag 12.30 rondleidingen.