Telefone de Lata/Can phone, public garbage can, string, Rio de Janeiro, 2011.
(via Rebel:Art)
Punkerfalle/ Punktrap, Bottel Bank, Beer, Steel Rope.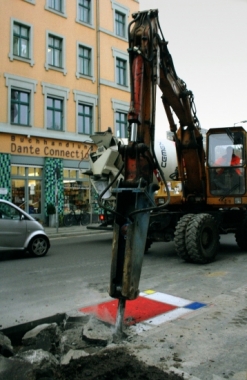 Kleine Oranienskulptur, Oranges, city worker Oranienstrasse, Berlin 2010.
"Installing a small skulpture made of three oranges with the help of an official cityworker at Oranienstrasse infront of the nursing home Oranienhöfe, Berlin."
Noise (Music), Performance, 25min, Leaf blower and Accordeon, Recklinghausen 2010.