En de winnaar is…. Edward Clydesdale Thomson.
Gefeliciteerd!
Lecturis.nl/article.php?id=133
De andere genomineerden:
Jompet Kuswidananto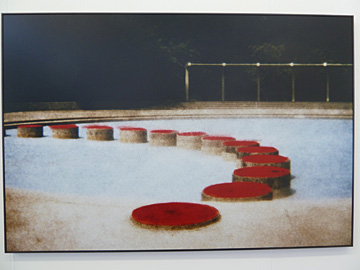 Niels Post is beeldend kunstenaar en actief als mede-oprichter van Trendbeheer.com. Hij is opgeleid aan de AKI in Enschede en het San Francisco Art Institute. Zijn werk is wereldwijd te zien geweest op videofestivals, tentoonstellingen en als zelfinitiatief in de openbare ruimte. Spam, computer gegenereerde tekst die niemand wil maar die overal opduikt, vormt de laatste jaren het basismateriaal van zijn beroepspraktijk. Post gebruikt het voor interventies op leegstaande winkelramen, wandsculpturen en ruimtevullende installaties.
Related Articles
Trendbeheer presenteert de First Virtual Exhibition of Shows op Art Amsterdam – en op een internet bij u in de buurt. Trendbeheer.com/tag/first-virtual-exhibition-of-shows
Jeroen Bosch en Niels Post heten welkom, Su Tomesen kijkt haar ogen uit. Vandaag vooral in de weer met onze eigen show, 24 live verbindingen 1 op 1 geprojecteerd. Elke 20 seconden een andere stad, [Meer…]
Trendbeheer presenteert tijdens Art Amsterdam de verkoopshow For The Love of Money. Tijdens een vijf dagen durende tentoonstellingperformance worden alle rode verkoopstickers op de beurs vastgelegd en gedupliceerd.