Geisslersann.com, de installatie is beter dan het persbericht.
T/m 11 september a.s.
Volatile Smile, 2011.
"For the exhibition, the artists took an in-depth look at the territory of the commercial and financial sectors, examining the offices of trading companies in Chicago through photographs and extensive interviews with traders, programmers and businesspeople. This material from the stage settings and playgrounds of the daily flow of money, already revealing in and of itself, and both imposing and frightening in its roughness and compactness, has been rendered into an impressive installation in the main part of the exhibition."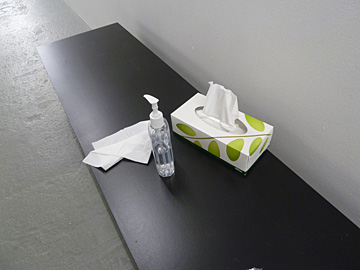 Ook niet met schone handen.
The real estate, 2008.
"The depopulated spaces of private houses, as Geissler and Sann have precisely photographed them, can be read as a result of the calculations of major financial and business enterprises, as a concrete consequence of the crisis, and as feedback from virtuality into reality."
Rhinoceros, Nuremberg, 2004.
"At first the image of the rhinoceros seems out of place among the other components of the installation. But doesn't the rhinoceros, in its primeval appearance, make reference to a much larger story in which even a stock market crash is only one event?"
T/m 11 september a.s.