In Frascati WG werd gisteren het toneelstuk (of is het een performance?) Five Sisters van Guy de Cointet (1934-1983)  opgevoerd. Na een aantal opvoeringen in de V.S. in 1982-1985 beleefde het in Amsterdam zijn Europese première. De Cointet omschreef zijn werk als een kruising van James Joyce met Marcel Duchamp,  met toevoegingen van Harold Pinter, Roland Barthes en een schepje Sesamstraat'.
theaterfrascati.nl/agenda/productie-schaduw?voorstelling=2011-341
Het decor. licht en geluid  werd ontworpen door lichtkunstenaar Eric Orr (1939-1998) en werd nu uitgevoerd door zijn dochter Elisabeth Orr.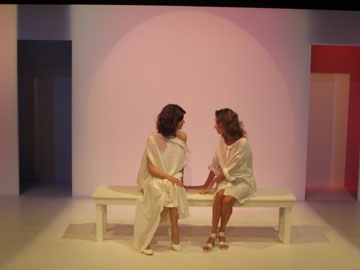 De spelers Violeta Sanchez, Einat Tuchman, Adva Zakai en Veridiana Zurita speelden onder auspiciën van If I Can't Dance, I Don't Want To Be Part of Your Revolution.
Het stuk gaat over vijf zusters die op een zonnige zondagmiddag in Californië in hun ouderlijk huis bijeenkomen. Orr's licht benadrukt hun hevige emoties en wisselende  stemmingen. De een kan de zon niet langer verdragen, de ander is wanhopig aan vakantie toe, de derde is alleen maar met haar kleren bezig. Een van de zusters maakt alleen maar rode schilderijen,  een ander is op zoek naar blauw en de vijfde zuster die niet komt opdagen heeft iets met groen.
Regisseur Jane Zingale deelde in de hulde.
Voor deze gelegenheid waren veel vrienden van De Cointet en Orr uit de VS en Europa naar Amsterdam gekomen. Na nog één voorstelling vanvond in Amsterdam zal Five Sisters nog te zien zijn in Leuven en in Léon, Spanje.
theaterfrascati.nl/agenda/productie-schaduw?voorstelling=2011-341