De galerie stroomt vol. Bezoekers onder andere Tamara Berghmans van het Fotomuseum Provincie Antwerpen en Ernest Buynder (voorzitter van het MUHKA).
Afgelopen vrijdag geopend, Into The Light, de solotentoonstelling van Cindy Jansen bij Art 12 in Antwerpen. Met de fotoseries Rabbits can't swim en Northern Night, aangevuld met haar meest recente videowerk Best to forget.
T/m 11 december a.s.

Art12.be/nl/tentoonstellingen/cindy-jansen/
(een bericht van Cindy Jansen)
Cindy Jansen en Anna Verbeeck voor de foto Northern Night. (87×87 cm)
Bruno Devos (partner Art12) en Bruno Vekemans (kunstenaar bij Art 12)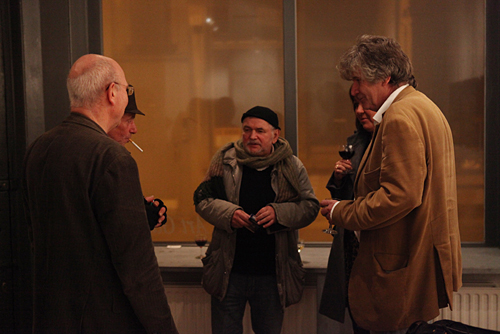 Paul Verbeeck (Art 12 gallery, links) in gesprek met kunst criticus voor HP de Tijd (midden).
Bezoeker bekijkt de video Best to forget.
Vier foto's uit de serie Rabbits can't swim (70x70cm), op tafel de box met alle werken.
Still uit de video Best to forget (47:47 minuten).
T/m 11 december a.s.

Art12.be/nl/tentoonstellingen/cindy-jansen/