Inside the walls of the room at kunstraum.ch in Basel. mid 2011.
1 van de 150(!) solo's/initiatieven/galeries bij Re:Rotterdam.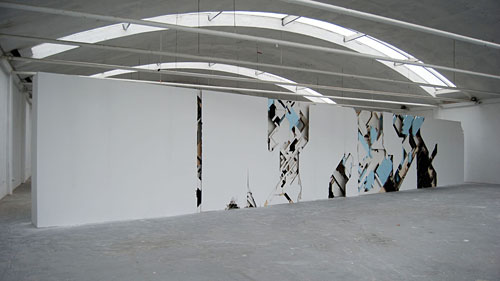 Niels Post is beeldend kunstenaar en actief als mede-oprichter van Trendbeheer.com. Hij is opgeleid aan de AKI in Enschede en het San Francisco Art Institute. Zijn werk is wereldwijd te zien geweest op videofestivals, tentoonstellingen en als zelfinitiatief in de openbare ruimte. Spam, computer gegenereerde tekst die niemand wil maar die overal opduikt, vormt de laatste jaren het basismateriaal van zijn beroepspraktijk. Post gebruikt het voor interventies op leegstaande winkelramen, wandsculpturen en ruimtevullende installaties.
Related Articles
Space Invader verwoordt het nog een keer in een notendop. Parijs is ondertussen inderdaad nog precies het zelfde. De wereld verdeeld in tweeën, een wij en de rest.
Boris Tellegen Ook geopend afgelopen weekend, Born in the Streets een groepstentoonstelling in Fondation Cartier in Parijs. Met werk van o.a. Basco Vazko, Cripta, JonOne, Olivier Kosta-Théfaine, Barry McGee, Nug, Evan Roth, Boris Tellegen, Vitché, [Meer…]
1 Comment
inside the walls of the room, erg mooi