Inside the walls of the room at kunstraum.ch in Basel. mid 2011.
1 van de 150(!) solo's/initiatieven/galeries bij Re:Rotterdam.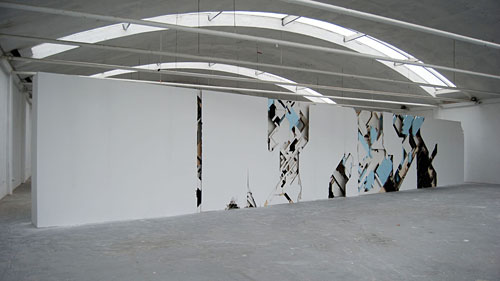 Niels Post is beeldend kunstenaar en actief als mede-oprichter van Trendbeheer.com. Hij is opgeleid aan de AKI in Enschede en het San Francisco Art Institute. Zijn werk is wereldwijd te zien geweest op videofestivals, tentoonstellingen en als zelfinitiatief in de openbare ruimte. Spam, computer gegenereerde tekst die niemand wil maar die overal opduikt, vormt de laatste jaren het basismateriaal van zijn beroepspraktijk. Post gebruikt het voor interventies op leegstaande winkelramen, wandsculpturen en ruimtevullende installaties.
Related Articles
PHK18, bureau voor kunst aan de Prins Hendrikkade op Noordereiland, Rotterdam, exposities in kantoorruimte van een interieurbureau en twee architectenbureaus, tot september met Tellegen, Post en Molenaar. phk18.nl/phk18-08-mei-tm-september-2016-niels-post-boris-tellegen-jeroen-molenaar
1 Comment
inside the walls of the room, erg mooi