Joey Spiotto "The Internets – Haters Gonna Hate" Print
$30.00 USD inspired by Various Memes
Sorry, je had er op kunnen wachten, zo'n tentoon moest er ooit van komen natuurlijk. Fraaie memezut voor de grijp (allemaal lelijk) in gallery nineteeneightyeight. Wordt instant groot want internet.
nineteeneightyeight.com/collections/memes
Zut plus meme om u er extra pijnlijk nogmaals aan te herinneren: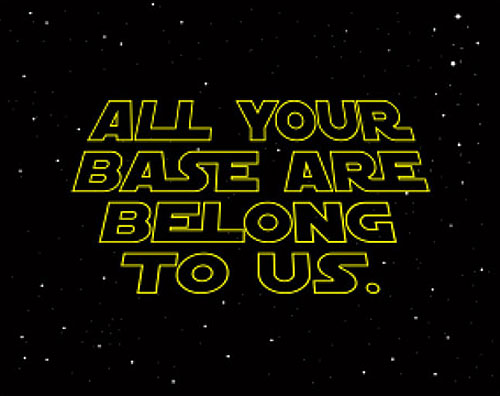 Chris DeLorenzo "All Your Base Are Belong To Them (A New Hope)" Framed Print
$70.00 USD Sorry, sold out
Captain: What happen?
Mechanic: Somebody set up us the bomb.
Alex Chiu "Sexy Sax Man Double Saxin' It"
$60.00 USD Sorry, sold out
Mick Minogue "Nyan Cat Ship"
$950.00 USD
Bekijk ze alle 180: