Het lijkt me voor de kunstenaars geen pretje maar voor de argeloze bezoeker is de aanwezigheid van een kunstenaar bij het tonen van diens werk wel degelijk een privilege. David Veneman (links hierboven) licht zijn idee om vanuit de luie stoel activistisch bezig te zijn gelukkig graag toe. Op de KABK is dat nog mogelijk t/m a.s. vrijdag van 12-21 uur en zaterdag van 10-17 uur.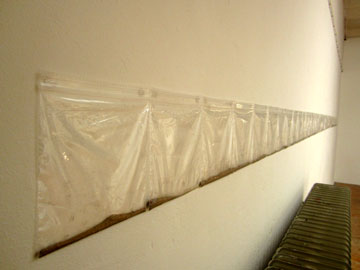 Sophie van Romburgh: 'I walk the trail till the trail walks me. I bring you the sand in my shoes.'
Marline van der Eijk laat het binnen regenen op een fietsbel.
Yolanda Uriz Elizalde laat je in een donkere ruimte liggen op een platform…
je krijgt geluiden te horen, je lichaam gaat trillen en op het plafond…
verschijnen prachtige golvende patronen teweeggebracht door die trillingen in water.
Lisanne Ackermann is geïnspireerd door Tracey Emin.
Miranda Meijer presenteert een licht bewegende videostill…
en tekent net zo precies…
als ze elke dag haar work out doet.
(detail)
Shiri Limor maakte een intieme en indringende film zien van de dagelijkse activiteiten van een vader.
Veerle Thoben toont tere, door mij onfotografeerbare schilderijen.
Eva Lansink laat de bezoeker kennismaken met een wellustig konijntje.
Jakob de Jonge laat het vogels regenen.
Dóra Benyó.
Iris Donker presenteert haar beeldenbuitelende film 'De subliminale waarneming van het raamloze televisiestation'.
Teun Vonk is gefascineerd door groepen.
Ursula Jernberg maakte een boek waarin de losbladigheid mooi wordt uitgebuit.
Ran Zhang past de evenwichtige compositie van het Chinese schrift toe in westerse woorden.
Evelien Cornelissen toont zwarte vingersporen op een ooit maagdelijk boek.
Daniel Disselkoen ontwierp een spel voor tram- en buspassagiers:
'laat de op het raam geplakte "menseneter" zoveel mogelijk mensenhoofden eten.'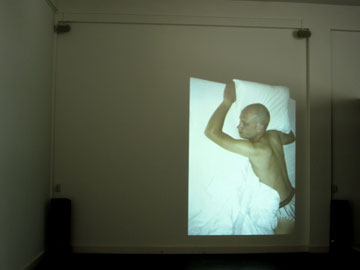 Iztok Klančar maakte een intrigerend fotografisch essay over homoliefde.