Snelwegsafari in het kader van de dagmanifestatie less is more or less van TENT.
Kleinpolderplein staat op instorten. Het oudste verkeersplein van Nederland lijdt aan haarscheur en betonrot. Over vijftien jaar gaat het tegen de vlakte of wordt het stadsmonument, grootsteeds wandelgebied, apocalyptische hangout voor dan jeugdigen of het wordt anderszins herbestemd, men is er nog niet uit, maar de snelwegen gaan toe, zoveel is zeker. De Fyra rijdt en verse A16-A13 en doortrekking A4 zijn in de maak.
Ruud Reutelingsperger van Observatorium pakt zijn kans en staat aan de wieg van een van de meer monumentale kunstwerken van Nederland – met dank aan deze habitat van flyover, bovenmatige verkeersdrukte en kleinstof.
Moeizaam torsen de pilaren in stalen corset tonnen vierbaans snelverkeer en file.
Aan de ene kant een thuishaven voor verwezen kunst. Oudbakken en overtollig worden kunstwerken uit de openbare ruimte terug kunst in dit openbaar museum in reusachtige overloop. Een fenomenaal gebaar in prachtige ruimte.
Wenende mannetjes, Ru de Gier, specialist percentageregeling beeldende kunst.
Angstaanjagend weinig graffiti. Spuitjeugd vreest fijnstof meer dan drijfgas en laat de longetjes niet bederven. Een half uur in deze verkeersgastempel staat gelijk aan veertien jaar roken.
Wie goed luistert hoort kraken.
Aan de andere kant waterpartij met beeldende ingreep van Observatorium in de vorm van wandelflyover.
Eens de wegen gesloten herademt de stad en worden de aansluitingen voltooid.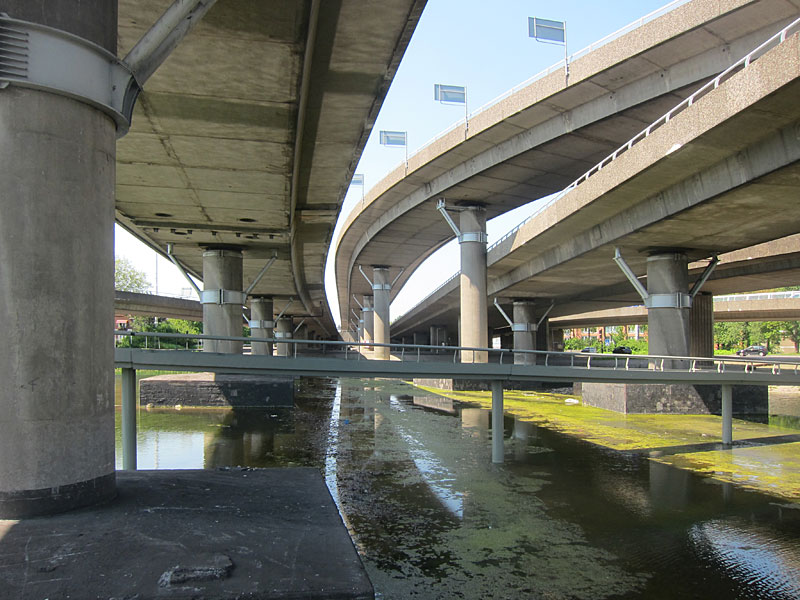 Een van de 1800 meetpunten. Bij teveel verzakking ineens stut men vlijtig en wordt een vers pak betonpleisters open gerist.
"Kan deze beruchte lawaaiige stadssnelweg een oord van verpozing, sport en spel worden?"
observatorium.org/observatorium/observatorium_release_
1.1.15/MainView.html#id=1148