In het museum Ca'Pesaro is The Sonnabend Collection te zien. Ileana Sonnabend begon in 1962 met een galerie die ze tot haar dood in 2005 voortzette. De kunstcollectie werd voor 600 miljoen dollar verkocht. Gelukkig bleef haar privé-collectie gespaard, zoals Four Soap Dishes (1962) van Jim Dine.
labiennale.org/en/art/exhibition/collateral-events/index.html
Peter Halley: White Cell with Conduit (1987)
John Baldessari: Everything is purged from this painting but art, no ideas have entered this work (1966-'68)
Jeff Koons: Teapot (1979)
Andy Warho: White Brillo Boxes (1964)l
en deze foto van Fidel Castro uit 1999 door Hiroshi Sugimoto.
Het eiland Burano is beroemd om zijn kant. In het kantmuseum aldaar is dit portret van Giuseppe Borsat0 (1771-1849) te zien dat hij schilderde van zijn vrouw (detail).
Demonstraties laten zien dat kant nog steeds op Burano wordt gemaakt.
Het eiland Murano is vermaard om zijn glas. Geen wonder dus dat het participeert in de parallelexpositie Glasstress met een kleine tentoonstelling in een voormalige glasblazerij.
Karim Rashid
Helaas weet ik niet meer van wie dit mooie werk is. Maar hij of zij staat hiertussen!
Ook in Venetië zijn onderdelen van deze expositie te zien, onder meer in het prachtige Palazzo Cavalli-Franchetti. Hier is onder meer dit werk van Mimmo Paladino aanwezig.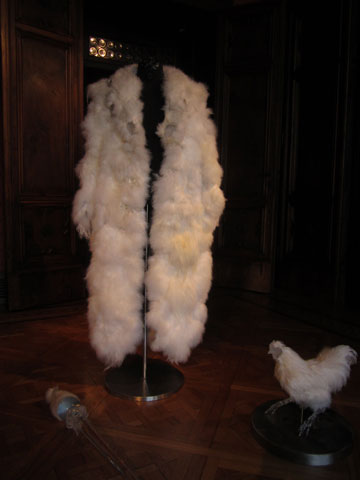 Koen Vanmechelen: Under my Skin – C.C.P. (2013)
Ai Weiwei als deelnemer van een project van Ron Arad.
en een dreigende video van Mat Collishaw.
Ook het Palazzo Grassi is – net als Punta della Dogana – eigendom van François Pinault. Hier heeft Rudolf Stingel huis gehouden en alle wanden en vloeren van tapijtprint voorzien…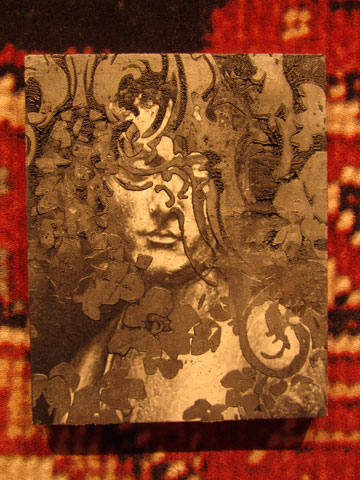 en zijn eigen schilderijen erop gehangen.
Uw reporter werd er een beetje tureluurs van en constateerde tevreden dat de tapijttape het al begint te begeven.
Een bezoek aan The Peggy Guggenheim Collection – sinds 1969 onderdeel van het Guggenheim museumconcern – maakte echter alles goed. Oordeel zelf: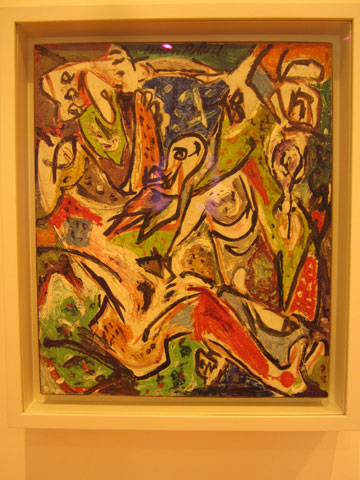 Jackson Pollock: Bird Effort (1946)
Mark Rothko: Untitled- Red (1968)
John Chamberlain: Tiny Piece #1 (1961)
Ellsworth Kelly: Green-Red (1964)
Jasper Johns: Three Flags (1960)
Cy Twombly: Untitled (1967)
Paul Klee: Bildnis der Frau S. im Süden (1924)
Piet Mondriaan: Composition No. 1 with Grey and Red 1938/Composition with Red 1939 (1938-'39)
Theo van Doesburg: Compostition in Grey (Rag-Time), 1919
Wassily Kandinsky, Landschaft mit roten Flecken, Nr. 2  (1913)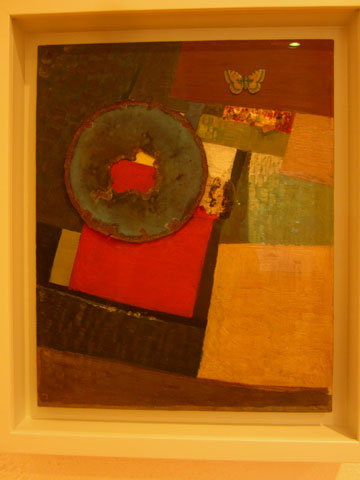 Kurt Schwitters: Maraak, Variation 1 (Merzbild), 1930
Het museum is niet groot maar in de uitbreiding is ook nog Robert Motherwell – Early Collages te zien.
Personage – Autoportrait (1943)
Jeune fille (1944)
Blue with China Ink -Hommage to John Cage (1946)
Viva (1946)
Er was ook een klein overzicht van futuristen: Carlo Carrà: Interventionist Demonstration (1914)
Fortunato Depero: Portrait of Gilbert Clavel (1917)