Een onderzoeksproject dat werd opgestart in 2012 en resulteert in een presentatie over de tentoonstelling 'Kunst in Europa na '68', die in 1980 door Jan Hoet werd georganiseerd. Zeg maar de oorspronkelijke tentoon anders ingezet, vormgeving Richard Venlet, voorzien van archief- en randmateriaal.
De toppers van toen blijken weinig gedateerd en tegelijk vermakelijk alledaags: een fijn weerzien.
smak.be/tentoonstelling.php?la=nl&y=&tid=&t=&id=581
Penone.
Paolini
Kounellis.
Captain Iglo Merz ontbreekt niet.
Tot zover een wilde greep uit meer (Dibbets, Long, Beuys) voor mij een hoog Van Abbe-gehalte, dat is periode Fuchs, 75-87. Hoet en Fuchs zwaaiden beiden de scepter in Kassel, Fuchs Documenta 7 in 1982, Hoet Documenta IX in 1992, smaakmakend of in retrospectief smaakvoorschrijvend wellicht voor de perceptie van wat hedendaagse Europese kunst is.
Allemaal dezelfde namen en wellicht niet slechts waar het deze twee giganten betreft maar in gans vooruitstrevend museumland.
Overigens geen punt van kritiek maar een uiting van verbazing. Ik zag in mijn jeugd louter Van Abbe en zie hier nu wat ik daar toen zag en dat is een mengeling van aangenaam weerzien en nostalgie, een schouderophalend ach goh… haast.
En erg veel goed werk.
Aangenaam eigentijds, maar in 1976 aangekocht.
Braco Dimitrijević is niet de meest bekende naam uit het pak, althans voor mij. Maar dat kan ook zijn doordat deze in het Van Abbe ontbrak.
De gigantische hilarische Art & Language; Picasso's Guernica in Pollock Style.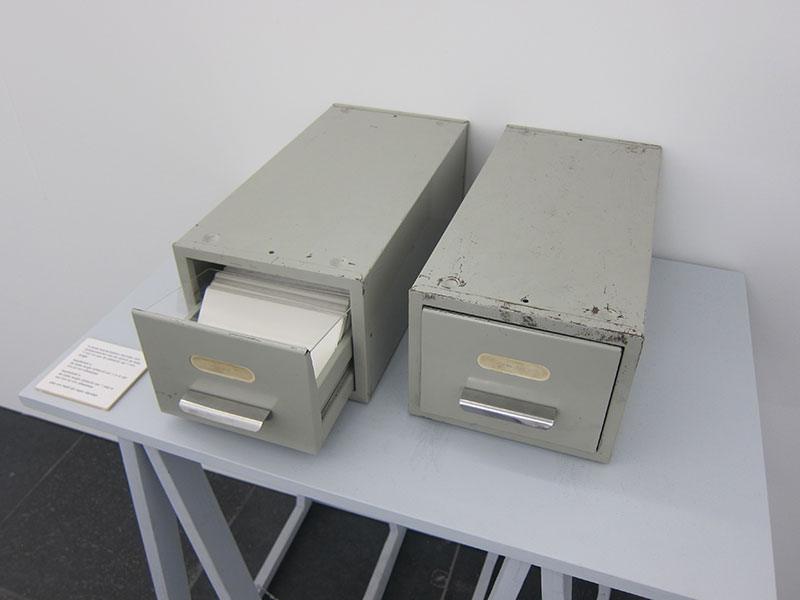 Stanley Brown aka de minimaalste.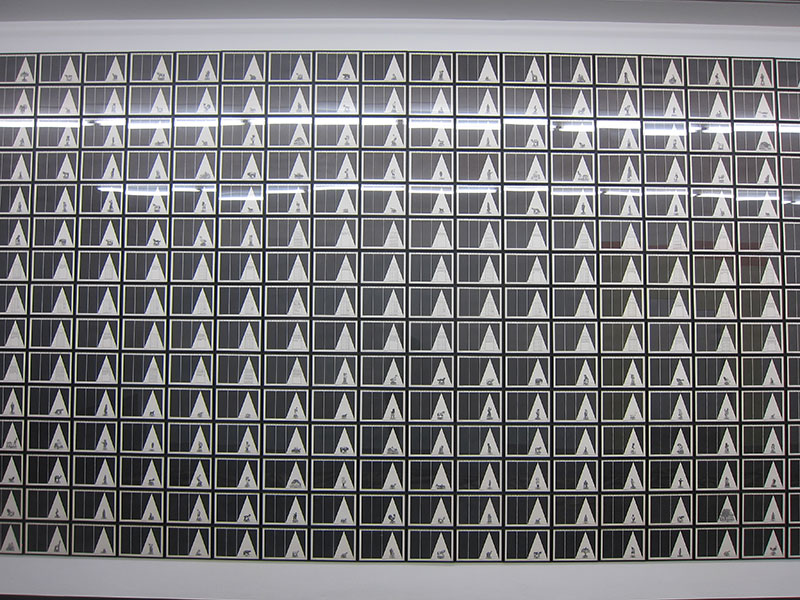 Hanne Darboven
Ooit kocht ik 150 van Darboven's houten lijstjes om eigen werk te framen, voor ik meen een euro het stuk, na afloop van een tentoon in het Van Abbe.
Wie werk van mij kocht voor 1999 – en dat zijn er niet zo veel – heeft exact zo'n lijstje. Ik heb er denkelijk nog een stuk of twintig. Tijd om een eigen Darboven te maken?
Een wonderschone Gilbert & George.
Never heard of: The Red Crayola
Hans Haacke supervet. FB prijs voor de creativiteit.
Toch al gauw 17.000 $
Ook een deel van de correspondentie Hoet-Haacke is in te zien.
Prachtige Ger van Elk
Niet duidelijk op mijn foto's – de buitengemeen interessante wie-wat-waar-wanneer infogrammen op de muren.
Incluis fascinerend schetsmateriaal.
En te restaureren pakjes Beuys.
Met pluim voor het doolhof van Richard Venlet. De tentoonstellingsarchitectuur doet aangenaam gedateerd aan en dat is een pré
Nog tot 15-3 2015 (tegelijk met de grote solo van de Bruykere)