De link met animatie is ver te zoeken, maar misschien valt dat onder borderline behaviour. Opnieuw erg aardige tentoonstelling in TENT. TENT. biedt wat bovenbuurman Witte de With steevast mist: diversiteit, verrassing en avontuur.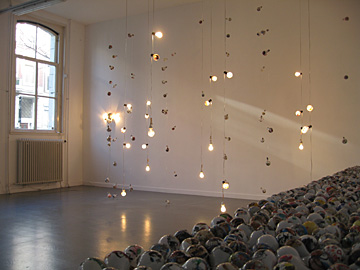 Saul Levine, Dark Light, 1998-2007
Christian Faubel, Overheadbots, 2005-2007 (Er zijn zelfs kinderen bij!)
Tony Conrad, Yellow Movie 2/26/73, 1973
Tony Conrad, Pickled Eastman Kodak 7302, 2006 Opgeweckte filmrolletjes op zuur.
Sandra Gibson – Luis Recoder, Light Spill, 2006
Een enorme deurmat in de vorm van Beiroet van Marwan Rechmaoui
Celluloid dat danst in de wind. Dat moet haast wel een collaboratie zijn. En jawel hoor: Juliana Borinski in collaboration with Pierre-Laurent Cassière: Sine (Digital/Analog Converter) Een collaborateur met dubbele voornaam, sjiek hoor.