1935. In Brussel vindt men het atomium uit.
2007. Buiten is het mooi weer.
Zie ook:
xs4all.nl/~chmkoome/[…]23/204618.aspx
ellenrodenberg.nl/MULTI%20[…]OG%2004.07.htm
Robert Gligorov, Natura Morta, Aeroplastics
Jens Semjan
Daniel Firman, Galerie Alain Gutharc
Glimmend zwart van Alessandro Bulgini, Photo & Contemporary
Nan Goldin
Stoeltjes
Ola Kolehmainen, Dominique Fiat Galerie
Miquel Mont, Flicker VIII, 2007, Galeria dels Àngels
Expodesign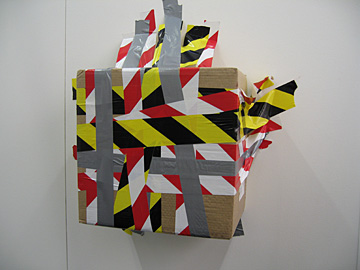 Graham Hudson, The amount of tape it takes to tape this box on the wall, Rokeby
Jean Bedez, 6 sacs en polyester, beton, 2006, La Blanchisserie
Virgine Barré, Elephant et bullit, 2004, Galerie Loevenbruck
De urban van Ikea
Vuc Cosic & Matej Andraž Vogrinčič, History Homme Edition, 2006
Henning Bohl
Simon Schubert, Kinderreigen, 2006, Kudlek van der Grinten galerie


Cedric Christie. Verschil moet er zijn: Picasso oplage 12 exemplaren 2500 €, Marc Chagal oplage 12 exemplaren 2000 €, Joseph Beuys één exemplaar voor 6000 €.
Honore d'O, Caméra, 2007
Zie ook:
xs4all.nl/~chmkoome/[…]23/204618.aspx