Niels Post: Video wipkip, 52 kilos worth of television
OUTPOST/ the european leg, met Daniel Seiple, Lotte Gertz, Edit Oderbolz, R.E.P en Niels Post.
Nog tot 21 augustus in en om Anglia Square, Norwich.
Edit Oderbolz, vloerbedekking wordt wandtekening.
Met een zelfontwikkeld beeldalfabet zou het Oekraïnse collectief R.E.P. (Revolutionary Experimental Space) een lofzang op, het reizen naar, Groot Brittannië schilderen. Oostblokambtenaren houden niet van reizen, dus geen visum en daarom videobrief.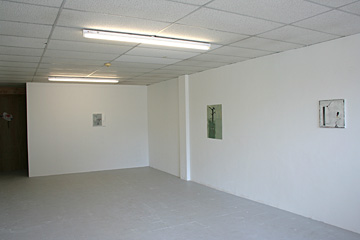 Lotte Gertz
In een vervallen supermarkt die al 3 jaar leegstaat en waar het surveillance camera systeem nog steeds werkt maakt Daniel Seiple, een wandelroute. Oude schappen en koelkasten zijn zo geplaatst dat je onzichtbaar blijft voor het alziende oog van de camera. Muzak doet de rest.
De laatste 24 dagen voor de supermarkt haar deuren sloot.
Contemporary Art Norwich 2007