Emanuelle Rapin @ Pitrowski
Marijn van Kreij is overal. Hier bij een groepstentoonstelling @ Klemm's.
Weer eens kersverse galerette in Berlijn: Koeratoren Zonder Grenzen openen met fotowerk Christina Dimitriadis.
Florian Schmidt bij Fiction, Naration, Structure @ Artnews.info projects.
Straatkunst in de Brunnenstrasse.
Thomas Kilpper hangt een lantarentje aan een flesje bier op een leest. Succes verzekerd in de Nice & Fit Showroom, gespecialiseerd in Slecht Werk Van Beduimelde Kwaliteit.
Vechtsoldaat op straat. Spijkerharde tegencultuur.
Charlotte Schleiffert @ Bethanien
Hadassah Emmerich @ Bethanien
"Wat een troep…"
"Die gast kan echt niet schilderen!"
Opening ongeïnspireerd verfwerk van Alex Katz bij de Jablonka's
Opening Review of a Position MK galerie:
Pim Palsgraaf voor een Pim Palsgraaf.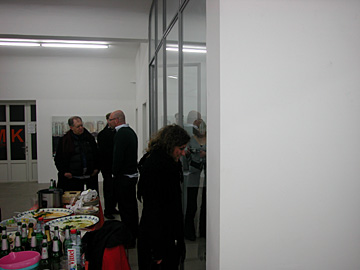 MK Karmin Kartowikromo in gesprek met Marcha van den Hurk
MK Emmo Grofsmid
Opening Alexander Komarov in het piepkleine Uqbar:
Alexander Komarov against the wall.