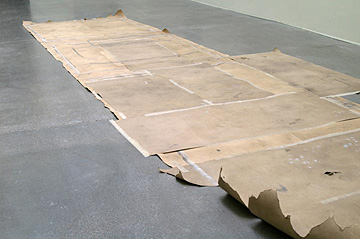 Untitled (Drawing for Floor), 2005 Reproduction of masking paper. Materials are white paper, dry pigment, charcoal, chalk, pencil and glue. Reproduction of masking tape made of Japanese paper and glue. Size about 6m length and 1,8m width.
Hardcore: extreme duplicatie/reproductie.
(Via Iheartphotograph)
12 Color Drawing, no. 3, 2009 Reproduction of greyboard. Materials are paper, charcoal, chalk, colored pencil and glue. Size 100 x 70 cm.
Untitled (Notes), 2008 Reproduction of notepad with 50 sheets of paper, each with 32 pencil lines. Materials are paper, pencil, colored pencil, pen and wire.
Size about 8 x 14 x 1cm.
Untitled (After Gombrich´s Art and Illusion), 2009 Reproduction of book sleeve. Chalk, colored pencil, and pen on paper. Size 26 x 62 cm.
Bekijk ze allemaal: