Tekenaarsfeest met verse multicolor-beeldsoep van Erosie, Daan Botlek en Luuk Bode in de voormalige sigarettenfabriek van Den Haag: Ship of Fools booming hot en (bijna) altijd druk in de genereuze expositiezaal van en in vormgeversbedrijf Trapped in Suburbia.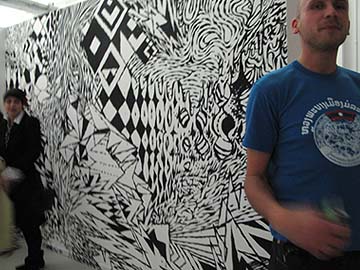 (Syrisch ambassadeur van Thailand Chris Versteeg was er natuurlijk ook)
met poetische detailering als
en
of
maar ook
idem
horror vacui e.rosie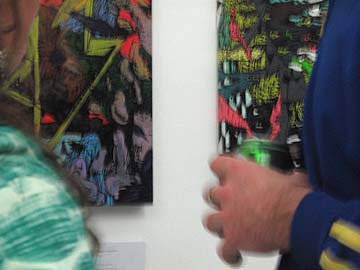 Botlek
Botlek en Erosie doen het nog éen keer voor in t echie
Met tot slot de wonderschone zugabe van de avond: nog warm van de drukpers, het meest recente werk en uit de binnenzak van the always surprising amazing fantasting Erwin Thomasse, een ingetogen edoch met glamcover omniette ode aan de alzheimerpatient met de gelaatstekeningen van ET.
Een mooi kleine (zelf)handgemaakte editie, te koop voor nog minder dan een 10tje (!) en de winst (!) gaat naar alzheimer stichting.
powerblastmovement.com/index.php?/root/lighthearted-pleasure/
email (bestellen maar:) info@powerblastmovement.com
sorry voor de overlast en goede groet,
uw aller gelegenheidscorrespondent vanuit denhaag dit keer