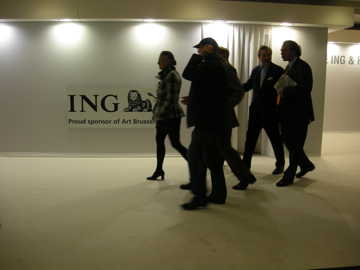 Anne Wenzel heeft afgelopen vrijdag al uitvoerig bericht over de opening van Art Brussels 2010. Heeft u de beurs zelf moeten missen? Hier nog een aantal kiekjes, gemaakt door Anouk Griffioen.
Galeria Horrach Moya (Palma de Mallorca)
"In spite of the ash cloud, only 4% of the galleries had problems to reach Brussels."
Galerie Nosbaum & Reding (Luxembourg)
"Every year in April, Art Brussels opens its doors and welcomes more than 30 000 professionals, collectors and art lovers from all over the world. Art Brussels is the European platform for upcoming talents in the field of contemporary art and focuses as well on strong established galleries representing a selection of their highest-quality paintings, sculptures, photography, video and installations."
Kunstenaar Daan Samson: "Voor mij ditmaal géén champagne. Als publiek figuur ken ik mijn verantwoordelijkheden. Er verschijnen al genoeg vormloze individuen ten tonele".
Galerie Dana Charkasi (Vienna)
Adler & Co Gallery (San Francisco)
Maes & Matthys Gallery (Antwerpen)
'Health Club Pick Up' (2009) van CUM*
Elisa Platteau Galerie (Bruxelles)
Max Estrella Art Gallery (Madrid)
Galerie Gabriel Rolt (Amsterdam)
Jim Shaw @ Simon Lee Gallery (London)
Maes & Matthys Gallery (Antwerpen)
(22:00) De beurs gaat bijna sluiten.