Tentoonstelling gemaakt door Perennial Art (voor de kenners, Witte Wartena) in samenwerking met GlogauAir.
"House could mean a home or one could see it purely as an architectural structure."
Kunstenaars: Tinka Bechert, Johannes Buss, B.C. Epker, Toshifumi Hirose, Mascha van den Hurk, Shaun MacDonald, Fiona Michie, Jesús Portal, Sebastiaan Schlicher, V&B (Alex Jacobs en Ellemieke Schoenmaker), Witte Wartena en twee performances door Johannes Buss en Brydee Rood.
T/m 19 augustus a.s.
(een bericht van Aquil Copier)
De opbouw, B.C. Epker bespreekt zijn plannen met Witte Wartena aan de hand van schetsen op de computer.
Jesús Portal doet nog wat gymnastiekoefeningen.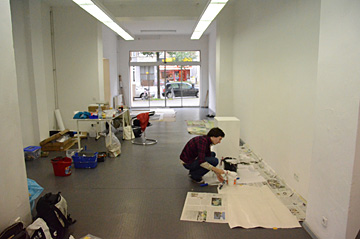 Witte schildert de muur nog even.
Even pauze, van links naar rechts: Raquel (coordinator van de galerie), Jesús Portal and Johannes Buss.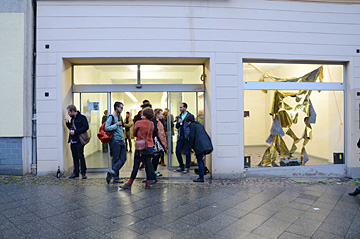 De opening, rechts voor het raam het werk van Johannes Buss. Onderdeel van zijn performance Love (parade) of death.
links Sebastiaan Schlicher, Tinka Bechert en rechts Witte Wartena. Aan de muur het werk van Witte.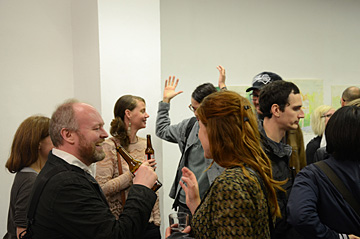 Michael Kirkham was ook van de partij en linksachter Brydee Rood.
Fris werkje van V&B.
En we fotograferen elkaar, aan de muur van B.C. Epker.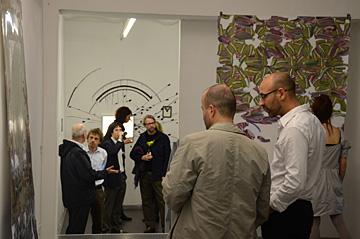 Geeske Bijker, Maarten Janssen en Jurriaan Benschop.
Straf werk van Sebastiaan Schlicher.
IAC-Gallery, the place to be.
Schilder, fotograaf, filmmaker, tentoonstelling opbouwer, vliegende reporter, uitgever van PRESENTeert in gesprek met vrouwelijke fans Tinka Bechert en Martha Gonzales.
Witte Wartena de maker van de tentoonstelling in gesprek met iemand van de Niederlandische Botschaft.
Alle delen:
Berlin, impressie (deel 4)
Berlin, een impressie (deel 3)
Haus Berlin @ IAC Berlin (Deel 2)
Berlijn, een impressie (deel 1)