Gique van Frank Stassen.
Gisteravond de 17e editie van "'s Neerlands meest legendarische videofilmfestival" sinds 2001. Een overvol prachtprogramma met 29 hoogtepunten en meesterwerken gepresenteerd aan een vol Gastatelier 1 in Kunst & Complex te Rotterdam. Was u er niet dan heeft u zéker wat gemist!
Begin van de avond, publiek stroomt gestaag binnen.
Stempeltattoo als bewijs van entree.
Ashleigh Nankivell, Helping Johnny Remember
Faiyaz Jafri, Natural Plastic
For The Love Of Money, the movie van de firma Trendbeheer.
Deven Green, Welcome to my VD
Constant Dullaart, DVD screensaver performance
Happy Famous Artists, Western Philosophy (Chapter 1)
Jacob Tonski, Balance Study, Threshold
"Schitterend!", het publiek raakt niet uitgekeken.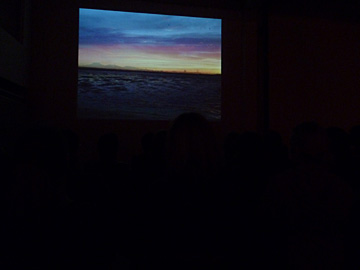 Jasper Elings, Sharing a beautiful sunset
D Tagno, Morphogenetic Field Device Little Boy. Een van de vele hoogtepunten van de avond en een van de beste kunstwerken van het jaar.
Pauze! In 50 minuten 17 prachtwerken voor de ogen vraagt om een moment van bezinning en een lekker biertje.
En hups, we gaan weer door. Emile Zile trapt af met Five Production Company Logos in 3D.
Abner Preis, Donkey Dan
Gerben Agterberg, Brug
Deze editie de enige inzending die binnenkwam op een VHS band, Kopfgeburten van Tina Haase & Hochstatter uit 1989.
Daniel Seiple, Rajikon (trailer)
Sabina Grasso, Dojo
Johannes Langkamp, 5 shorts
Michiel van Bakel, Great Library Redox
Maarten Rots, Flesh
Vincent Dekkers, Alledaags
En tot slot de al eerder aangekondigde onsmakelijke, maar bijzonder grappige, aftiteling van Jeroen Kuster a.k.a. Joe Kisser.
Tot slot plaatjes draaien met DJ Refill a.k.a. Stefan Gross.
En op vertoon van het entreebewijs een heerlijk biertje aan de bar.
Het werd laat.
Binnenkort op een beamer bij u in de buurt!