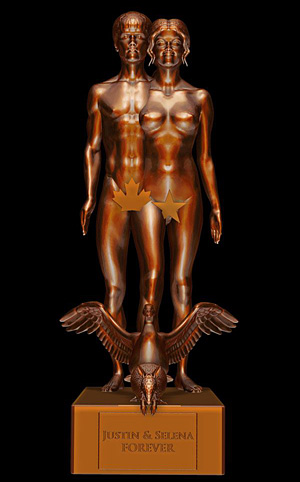 Nude Bieber and Gomez Portrait as Monument to National Exceptionalism, 2011.
"Justin and Selena joined together, symbolizes the great harmony between neighboring countries Canada and The United States," said spokesman Cory Allen. "Countries like North Korea and South Korea could learn from our example. It would be nice to exhibit this portrait in the areas of the world where tensions are high between countries that share borders."
Daniel Edwards kent u misschien van de barende Britney Spears, de Oprah Winfrey sarcofaag en de Paris Hilton autopsie (incluis removable organs). Een eigen website heeft de beste man niet maar Google Image Search maakt een hoop goed.