Ook in Berlijn gaat volgende week het culturele seizoen weer echt van start en zoals overal wordt daar door menigeen al een voorschot op genomen, alhoewel je gaat twijfelen of in deze stad het seizoen ooit ophoudt.
Galerie Duve opent vroeg dit jaar met een mooi galerievullend werk onder de naam Research 'n Motion van Roman Liška. Met een ogenschijnlijk simpele ingreep van drie draaibare muren beplakt met een wandvullende foto of beschilderd met neongele olieverf en met elk een raamopening geeft de Duitse kunstenaar de ruimte een spanning die lang blijft boeien.
Nog te zien t/m 26 oktober.
Duveberlin.com/exhibitions/1503/press-release
(een bericht van Ties ten Bosch)
De vensters in de muren zorgen voor bijna schilderachtige doorkijkjes waar je, bij een redelijk druk bezochte opening, lang naar kan blijven kijken.
Of dit echter ook werkt wanneer je als eenzame bezoeker op een willekeurige dag door de galerie loopt is nog maar de vraag.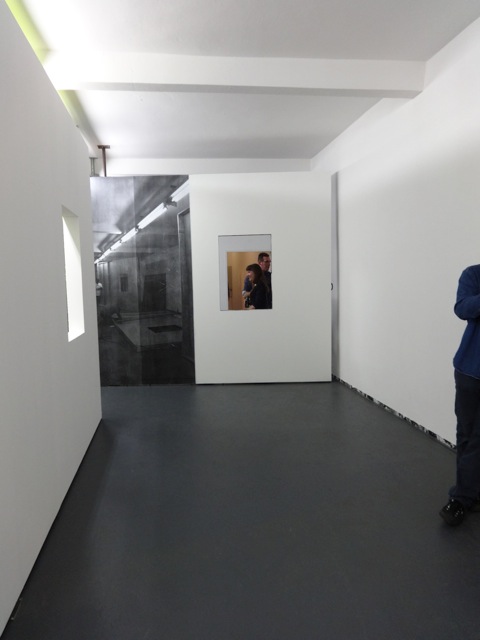 Dat de muren kunnen draaien is een bijkomstigheid die zorgt voor een af en toe veranderd landschap, maar zal waarschijnlijk vooral functioneel gaan blijken bij de gastperformances die de komende weken zullen plaats hebben in de galerie.
Ook deze avond vond een performance plaats van een goed vermomde kunstenaar. De muzikale performance begon vooral spannend doordat de galerie helemaal donker was, maar het stroboscopisch effect dat werd gebruikt kon niet verbloemen dat dit werk toch niet helemaal uit de verf kwam.
En natuurlijk in het achterkamertje het werk dat uiteindelijk het brood op de plank moet gaan brengen.
Galerist Alex Duve (links) in gesprek met Nederlands kunstenaar in Berlijn Bram Braam.
En kunstenaar Roman Liška houdt de wacht in de deuropening.
Nog te zien t/m 26 oktober.