Hoe lang – of kort – moet een expositie duren? 'Nothing to see, Nothing to hide' was maar drie dagen te zien. Enerzijds jammer, anderzijds des te meer bijzonder en daarom zeker een verslag waard.
De kleine tentoonsteling met foto's en drukwerk van Stanley Brouwn sluit mooi aan bij de omvang van de ruimte. Een zestal vitrines, enkele posters aan de wand, hoe minimaal wil je het hebben. Maar Minimalisme en Stanley Brouwn zijn bijna identiek.  Hij heeft het minst bekende gezicht van alle bekende Nederlandse kunstenaars, zijn gebruik van wit is vermaard en zijn werken hebben een afstandelijke signatuur.
Twee vitrines zijn door de curatoren Frank Mandersloot en Harry Ruhé gevuld met nog nooit getoonde relikwieën uit de geschiedenis van de Nederlandse conceptuele kunst: foto's die Igno Cuypers in 1983 om documentaire redenen nog één keer afdrukte.
Ze tonen de Stanley Brouwn onder meer bij zijn project 'This Way Brouwn' waarin hij het publiek op straat vroeg hem voor te tekenen hoe hij een bepaalde bestemming – zoals een station – moest bereiken.
Enkele foto's leggen Brouwns 'anonieme actie' uit 1964 in de etalage van Amstel 47  vast.
Ook zijn performance in januari 1964 in de Leidsepleinbioscoop ter gelegenheid van de vertoning van de  film 'Sun in your Head' van Fluxus-strijdmakker Wolf Vostell blijkt te zijn vastgelegd.
Brouwns relatie met Fluxus wordt ook geboekstaafd via een door Fluxuspaus George Maciunas vormgegeven kaartje.
In 1965 werd het allemaal wat formeler door een expositie in de Internationale Galerij Orez in Den Haag waarvan Albert Vogel mede-eigenaar was.
Tijdens zijn tentoonstelling in het Van Abbemuseum in 2005 waren kunstwerken van Brouwn te koop in een locale ijzerwarenwinkel.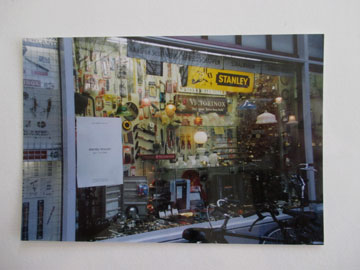 Het betrof touwen en kettingen die gemeten werden in 'Eindhovense voeten', een oude lengtemaat die per stad verschilde en die in Eindhoven 29,2 cm bedroeg.
De reep metaal hierboven meet drie Eindhovense voet. Net als vrijwel al het andere werk van Brouwn betreft een verzet tegen de dictatuur van de meter als lengtemaat. '(…) de geldigheid van het begrip afstand wordt steeds verder uitgehold. in mijn werk worden afstanden opnieuw opgeladen, ze krijgen weer betekenis.'
Een andere vitrine omvatte een serie uitndogingskaarten van Brouwns indrukwekkende expositiereeks. Het wit overheerst.
Brouwn is ook beroemd door zijn kunstenaarspublicaties.
Bij alle catalogi gaat het om zelfstandige kunstwerken. Brouwn zelf stelt: 'de publicaties zijn langdurige tentoonstellingen.'