Op de allerlaatste dag de toch al verlengde tentoonstelling Shah in Part Projects bezoeken, eigenlijk geeft dat geen pas. Ik had veel eerder moeten komen. Gedrie, met drie camera's gewapend, van zins er geheel eigen popart duplicatio van te maken. Doch de kleinste verwijderde voor vertrek snaaks de geheugenkaart uit zijn camera. Toen waren er nog twee.
partsproject.nl/pp09-personal-pop
Zonder geheugenkaart dus.
Mohammed Shah Jahan Miah. Nooit van gehoord. Vooraf ingedacht als weinig aantrekkelijk maar wat een fijne aansprekende show. Personal pop: Warhol + Beuys + Michael Jackson = Shah Jahan. Zoiets. Ruw gekliederd onaf fetish materiaal. Beuys zijn vilten hoedje verruild voor des Pizza Boy's kostuum zeg maar.
Heel kort: "onbekend, jong overleden, beloftevol, Brits-Bengaalse kunstenaar Shah Jahan […] groeide op in Birmingham, studeerde aan The Ruskin School of Art van Oxford University en verbleef tussen 1998 – 2001 als resident aan De Ateliers in Amsterdam."
De Ateliers, dat is de link met Nederland. Marlene Dumas is een groot bewonderaar.
Mijn foto
Alt's variant
Pizza-doos en pair painting.
Uit de losse hand ingelijst gebedskleedje(?) naast een betekende Bengaleese vlag.
Mijn foto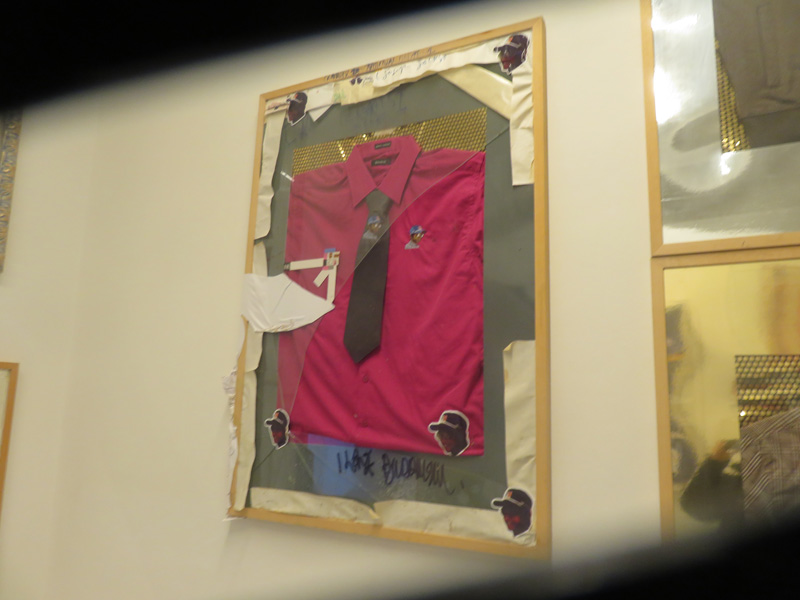 Alt's variant…
…in twee delen van kleding collages.
Mijn foto
Alt's variant
Een selectie van een halve container aan opgeslagen en bewaard bronmateriaal.
Alt: "Leuk, mooie tentoonstelling. De TV was het beste werk. Ik vind mijn eigen foto's het mooiste."
Felix: "Weet het niet."
Jeroen: "Bruisend geheel. Uit een doos getrokken stukje geschiedenis, een micro-oeuvre – heel vroeg gestorven immers- op een voetstuk."
Gaat dat zien zou ik zeggen, maar dat gaat niet meer. Gisteren zondag 29 april laatste dag.