Merel met ontwerper Wannes Verhees.
Een privé toertje door het ateliercomplex Studio 65 van Merel Noorlander and friends.
Wannes Verhees heeft werkelijk een prachtige industrieel ananas tafeltje gemaakt, waar ik opslag verliefd op werd.
Nic Roex vertelt wat wel en niet op de foto mag. Hij is namelijk bezig met nieuwe ontwerpen en die mogen nog niet online. Dus dan doe ik dat natuurlijk niet.
Het prachtige kobalt blauwe schepkrukje van Nic. Zit heerlijk en ziet er nog prachtig uit ook.
De stamppot stamper van Nic. Welke vorm heeft hij erin verwerkt? Het is de kaart van Nederland! Ik zag het echt niet in een keer.
Oscar Peters met een sculptuur voor de aankomende expositie in Arti.
Vanaf nu volgen er foto's van het atelier van Merel Noorlander.
Inmiddels zijn we in het atelier van Merel aangekomen. Waar zij met veel enthousiasme verteld over haar complexe vouwtechnieken, de boeken die zij leest en hoe fijn het is om met zoveel kunstenaars uit verschillende disciplines in een ateliercomplex te zitten. Helaas moeten zijn er dit jaar in september uit. En zijn ze opzoek naar een soortgelijke locatie waar ze met z'n allen als collectief weer aan de slag kunnen.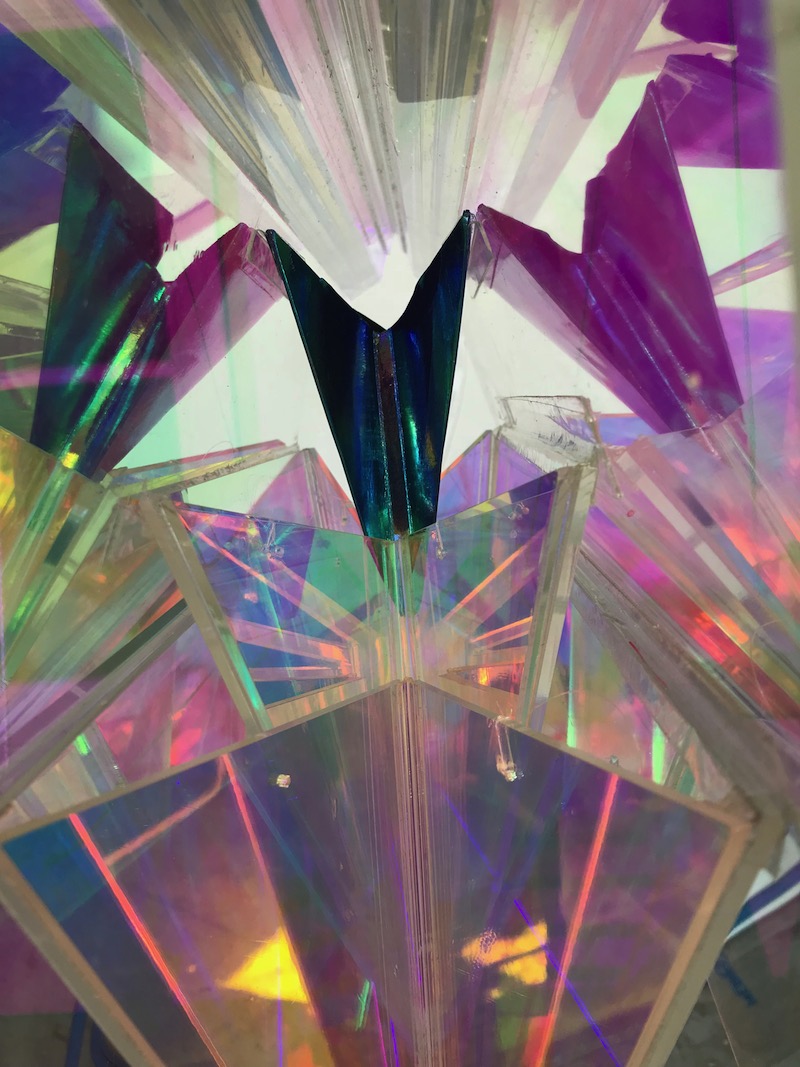 Detail uitvouwbare licht installatie 'Motley'.
Maquette voor The Erotic Engine, installatie met Oscar Peters voor de aankomende expositie in Arti.
De naaimachine, waar Merel niet meer zonder kan.
Detail onderzoek uit- en invouwbaar design
Slinger van de vrouwelijke vulva.
Try-out prisma, aangedreven door het lichaam, voor performance aankomende expositie in Arti 'Out of Order'.
Tot slot, gaan we nog even naar de gezamenlijke keuken van de Studio 65 kunstenaars, waar ateliergenoot Joost Benthem, die jullie wellicht kennen van Wonderbars, zit te chillen met Melanie Bonajo.
Op 25 mei opent in Arti et Amicitiae de groepstentoonstelling Out of Ouder – Performing Objects, waarin werken van Merel Noorlander & Oscar Peters te zien zijn.