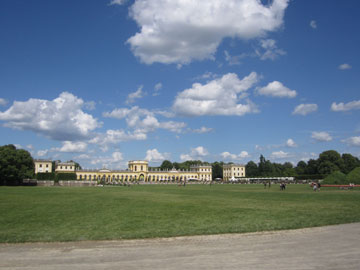 Voor de Orangerie in Kassel bevindt zich het park Karlsaue. In dit enorme park presenteren 54 kunstenaars en kunstenaarscollectieven hun werk. Enigszins ondankbaar, want tegen de natuur kan kunst niet op. Maar soms vindt een mooie versmelting of confrontatie plaats.
d13.documenta.de/#/panorama/?m=n&L=0
(Deel 1: opening en Fridericianum: trendbeheer.com/2012/06/10/documenta-13-kassel/
Deel 2: Hauptbahnhof: http://trendbeheer.com/2012/06/12/documenta-13-kassel-deel-2/
Deel 4: de documenta-Halle, de Orangerie, het Ottoneum, het voormalige Elisabeth-ziekenhuis en de Neue Galerie: trendbeheer.com/2012/06/14/documenta-13-kassel-deel-4/.
Deel 5: publicaties, diversen, tips en how to: trendbeheer.com/2012/06/15/documenta-13-kassel-slot/)
Song Dong heeft een Doing Nothing Garden op het gazon gezet, opgebouwd uit puin en organisch afval.
Met in neon de Chinese woorden voor 'doen' en 'niets'.
Issa Samb transporteerde zijn Senegalese studio naar Kassel
inclusief zijn bibliotheek.
In een van de kassen in het park is een installatie van Thea Djordjadze te zien.
Susan Hiller liet een jukebox vervaardigen voor haar prive-collectie vrijheidsliederen.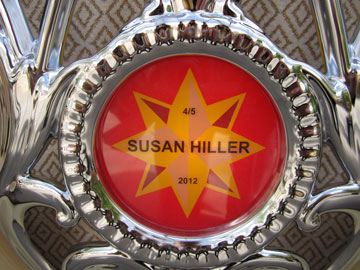 De gehele oplage van vijf is op de documenta present.
De teksten zijn ook in een boek verkrijgbaar.
En in een zaal in de Neue Glerie staan alle teksten op de muren. Daartussen een mij onbekende Nederlandstalige (waarschijnlijk beter bekend in de Duitse versie?)
De titel van de in een tent opgestelde presentatie van Jimmie Durham is toegevoegd, wellicht door hemzelf.
In een vitrine liggen twee voorwerpen uit Europa, een van 30.000 jaar oud en een uit 1941.
Ook staan er enkele sculpturen in het park zoals deze perspectivisch vertekende klok van Anri Sala.
Brian Jungen maakte een hondenspeelplaats, alleen toegankelijk voor honden (en hun baasjes).
Tue Greenfort liet zich inspireren voor haar Worldly House  door de publicaties van feministisch sociologe Donna Haraway…
en documenteerde de rol die het dier in de kunst speelt naar aanleiding van Haraways theorie over de co-evolutie van mens en dier.
Maar de meeste kunstenaars tonen hun werk in een ruwhouten huisje.
Zoals Lea Porsager die het experiment Strukturmutter uit de kunstvrijplaats Monte Verità (1900-ca. 1930) reconstrueerde.
Shinro Ohtake heeft meer vertrouwen in chaos…
dit is althans de indruk van zijn bijdrage.
Marcos Lutyens en Raimundas Malasauskas ontwierpen een 'spiegelend' huis om aan te tonen dat het bewuste en onbewuste één zijn.
Paul Ryan introduceert Threeing…
gebaseerd op Peruaanse motieven.
Time/Bank, geïnitieerd door Anton Vidokle en Julieta Aranda, is ook present…
onder meer met bankbiljetten ontworpen door Carolina Caycedo…
en een daghap van Honingbank i.s.m. Stroom Den Haag.
Doug Ashford combineert geometrische schilderijtjes
met foto's van elkaar ondersteunende personen.
Chiara Fumai veegt, zich baserende op Italiaanse feministes,  in haar morele expositie de vloer aan met Hegel…
terwijl M.B….  er ook niet goed van afkomt:
Vleselijk genot is echter wel de inspratiebron van Ruth Robbins en Red Vaughan Tremmel…
die striptease als ceremonie (en eigenlijk ook als kunst) beschouwen en tepeldecoraties…
en mini 'broekjes' uit deze bedrijfstak verzamelen…
evenals portretten (hier aangevuld met haar urn) van sterren als Ricci Cortez (1924-2008).
Araya Rasdjarmrearnsook wilde een omheind en ontoegankelijk huis…
om te collecteren voor haar hondenopvanghuis in Thailand.
Attila Csörgö pakt het kleiner aan en probeert de cirkel te kwadrateren…
in een lichtinstallatie.
Gabriel Lester (woont ook in Sjanghai) speelt in zijn Transition…
met de overgang tussen licht en donker.
Manon de Boer (woont in Brussel) laat in een functionele presentatie…
afwisselend op twee schermen haar film One, Two, Many zien.
Gelukkig was er wat te eten bij The Art of Sawrahi Cooking
van Attila Csörgö & La Cooperativa Unidad Nacional Mujeres Saharauis met heerlijke couscous.
(Deel 1: opening en Fridericianum: trendbeheer.com/2012/06/10/documenta-13-kassel/
Deel 2: Hauptbahnhof: http://trendbeheer.com/2012/06/12/documenta-13-kassel-deel-2/
Deel 4: de documenta-Halle, de Orangerie, het Ottoneum, het voormalige Elisabeth-ziekenhuis en de Neue Galerie: trendbeheer.com/2012/06/14/documenta-13-kassel-deel-4/.
Deel 5: publicaties, diversen, tips en how to: trendbeheer.com/2012/06/15/documenta-13-kassel-slot/)