123 ideas by Helmut Smits
Bijzonder kek booklet 123 pagina's ideetjes van Helmut Smits in de winkel van Onomatopee.
Smaakmakend sinds jaar en dag: onafhankelijk kunstenaar, tentoonstellingmaker, trendbeheerder en oprichter art agent orange, artist run art agency. Eigen werk onder
jeroenbosch.com
Meer info zie
trendbeheer.com/jeroen-bosch
Related Articles
Op een drietal plekken huist deze Dutch Designweek het vijfjarige Onomatopee. Congrats heer Lomme met een voortvarend uitslaan van de vleugels: van initiatief tot instelling. Wat gaan de komende vijf jaar brengen? onomatopee.net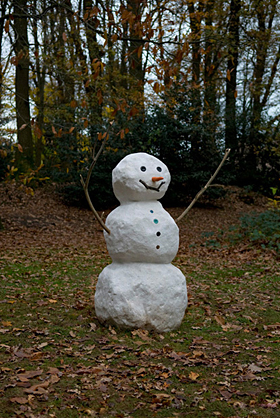 Peter Regli, Reality Hacking No. 256, Snowman World Tour, Da Nang, Vietnam, 7 June 2007. A snowman was carved out of a block of white marble.
Net open; mooie driedubbel (en dwars) expositie bij Onomatopee te Eindhoven, in de nieuwe plek, en wat voor een! Onomatopee.net (Een bericht van Erosie)
Be the first to comment