Ter gelegenheid van de tentoonstelling Landscape interventions bij Arte sin Limites in Den Haag was er dinsdag een lezing met gastoptredens van Marisa Polin en Eelco van der Lingen.
De tenoonstelling loopt nog t/m 1 maart a.s. Met werk van Alejandro Pintado, Adela Goldbard, Patrick Petterson, Daniel Alcalá, Pablo Lopez, Anibal Catalán en Oswaldo Ruiz.
ArteSinLimites.eu/agenda/nl/37
(een bericht van Marisa Polin)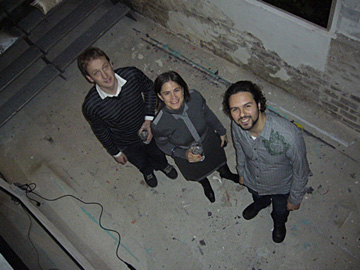 Alejandro Pintado, curator of the exhibition, guests artists Marisa Polin and Eelco van der Lingen.
Geleriehouder Eugenie van Raaij van Foundation Arte sin Limites.
Werk van Patrick Petterson.
Twee foto's van Pablo Lopez.
Schilder Willem van der Hofstede en fotograaf Marsel Loermans.
Galeriehouder Anne-Marth Hogewoning van Galerie Beeld.
Grafisch ontwerper Gabriela Galindo met Eelco van der Lingen.