Donderdag 1 oktober opent Search in Progress in het LCC Delfshaven. Geen idee wat of waar. Zegt de site: (activiteiten geen)
Update inbox/reactie:
19:00 uur opening, het Lokaal Cultuur Centrum Delfshaven aan de Voorhaven 57 te Rotterdam.
(Update 1-10: foto's JB ingevoegd)

Ben Deurloo is al klaar.
Brigitta van Weeren is nog straf aan het werk.
Wat doet Niki van Strien?
Koen Taselaar hangt.
Joost Halbertsma leest de nieuwe stripkrant.
(Foto's Koen Taselaar)
Update 1-10: Foto's JB ingevoegd
Een volstrekt los verband van twee kunstenaars, beeldenmakers, een schilder en een tekenaar in een mooi pand op een mooie lokatie maakt nog geen tentoonstelling. Maar gaat zien van Strien, koop een Koen Taselaar (boekje 10 euro) en schaf u gelijk het kersverse stripblad With Drawn aan (3 euro).
Diversiteit galore:
Prachtig werk van Niki van Strien in de regentenkamer.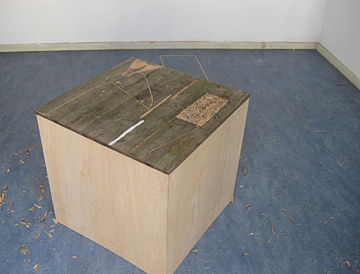 Naar een titel heb ik niet gevraagd – bedenk ik me nu. Wellicht goddank.
Saillant detail 1: de schoonmaakploeg kuisde de avond voor de opening voortvarend de houtkrullen op de vloer. Saillant detail 2: derden hebben het centrale blok diezelfde avond nog als zaagtafel gebruikt. Dat gevaar dreigt als een bordje pas op, kunstalarm ontbreekt.
Een prachtig prikkelend beeld/installatie van Niki van Strien.
Ben Deurloo
Eén muur van de installatie van Brigitta van Weeren.
Koen Taselaar is cool.
Boekje pagina 100: trendmanagers blabla (kunt u het lezen op internet?)
Koen Taselaar nodigde derden uit om zijn presentatie te vervolmaken.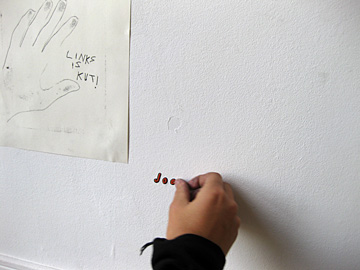 Zoals Joe.
Nee Joey.
Iets voor of over Wilders. Of skateboarden. Of voor of tegen beiden.
Koen Taselaar Eric Roelen huiselijk puzzelend met Marijke Appelman.
De With with with what? With Drawn: nul nummer.
Met ondermeer S. Lloyd Trumpstein – die we ondermeer ook uit de zone5300 kennen.
En raad eens wie er gratis (voor 3 euro) nu ook een heuse Marijn van Kreij in huis heeft?
With Drawn is te koop bij LCC Delfshaven.