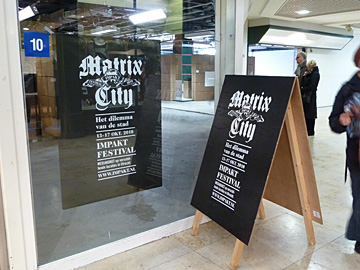 Impakt in Hoog Catharijne
Afgelopen zaterdag via Impakt en Casco in Utrecht richting Scheurwater in Zwolle.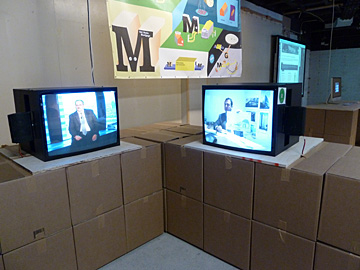 Wegens tijdgebrek geen Impakt panorama programma's wel een rondje tentoonstellingen. Als eerste de Matrix City Exhibition op triple A lokatie Hoog Cathrijne. Veel documentatie van projecten en een wat rommelige opzet maken weinig impakt in dode hoek van een winkelcentrum.
Derivart en David Pello combineren klassieke videogames (o.a. Break Out) met meerkeuzevraagjes over de economische crisis in de jaren 90 in Spanje. Game design meets activisme/beeldende kunst op zijn allerplatst.
De aardrijkskunde/geschiedenisles van de middelbare school meets Discovery Channel. The Mannahatta Project, over hoe Manhattan eruit zag voordat de Europeanen kwamen.
Mensen met ongeschoold werk die een hypotheek van $ 350.000 in de maag gesplitst krijgen. Nogal een open deur maar desondanks interessante video van Damon Rich, onderdeel van zijn veel grotere project Red Lines Housing Crisis Learning Center.
Toerisme ontmoet activisme, Kayle Brandon en Heath Bunting gaan op reis en maken foto's en kranten over de dieren in de stad.
Een anonieme bezoeker denk er het zijne danwel hare van.
Persuasive Games, Disaffected!. Niet te hebben interface maakt dat je het tijdens het starten van een spel al voor gezien houdt maar misschien is dat ook wel de point?
De momenteel overal aanwezige Abner Preis legt de zegeningen van Web 2.0 suïcide uit.
Het beste werk in de tentoonstelling, de Web 2.0 suicide machine schopte het zelfs tot South Park maar ook die komt toch beter tot zijn recht in de beslotenheid van je eigen computer.
Maar genoeg gezuurd, onderweg richting centrum o.a. Love aan een touwtje. Robert Indiana meets Indiana Jones?
Ook Impakt, de Dropstuff festival mobiel op de Neude.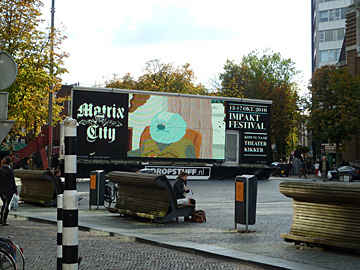 Even verderop, muurschildering meets Jenny Holzer.
Sonic Resistance, Impakt bij CBKU, mooie tentoonstelling over geluid in de publieke ruimte.
Persoonlijke favoriet Contraint City van Gordan Savicic.
"For the project Constraint City Savicic has developed a harness that gets tighter around the body when the wireless internet signal from a secure network gets stronger."
Christina Kubisch
"For the Impakt Festival 2010, she converts electromagnetic pollution into sound in a specially designed audio walk through the caverns of Hoge Catharijne."
"U hoort real-time lawaai van de Utrechtse Werf."
Leuk extraatje bij CBKU, een blik in de keuken van Sun Xun, momenteel aan het werk als gast van het Holland Animation Festival (t/m 9 januari 2011 in Utrecht).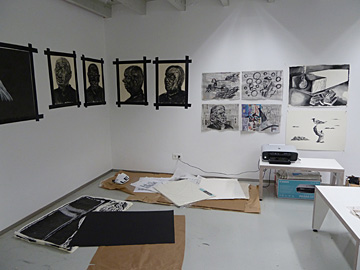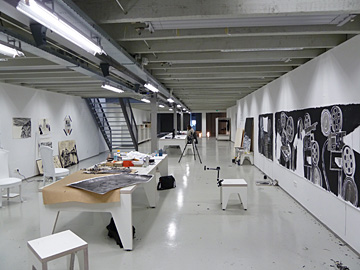 Het Grafisch Atelier op de eerste verdieping.
Kabouter Buttplug aan de wandel.
Bij Casco opende Zachary Formwalts video met publicatie over het ontstaan van Central Park in New York en de opkomst van de documentaire fotografie. T/m 21 november a.s.
Urban camouflage bij Utrecht CS.
Daarna door naar Zwolle waar Raymond van den Boogaard (chef kunst NRC) in het Stedelijk Museum de openingswoorden sprak voor de HesterScheurwater.com tentoonstelling. T/m 9 januari 2011.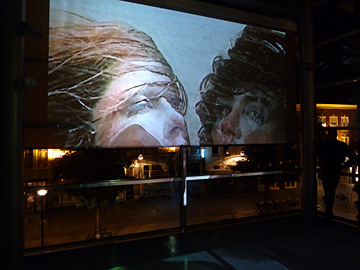 In deze tentoonstelling vooral het videowerk van Scheurwater en tevens aanleiding voor de ingebruikname van het nieuwe projectiescherm dat kunstwerken het museum uit laat beamen.
Scheurwater signeert.
Daarnaast veel oude collectie in het museum waaronder dit kind in jurk met Blue Band logo geschilderd door Geerlig Grijpmoed (1760- 1788).
Het Stedelijk Museum gezien vanaf de Melkmarkt in Zwolle.